PPC Marketing Speculations
I haven't written on a good internet rumor in a while. While some marketers are applauding the efforts of Yahoo with Panama, others are speculating that a MSN purchase of ad-technology firm DoubleClick is just the first step in going all-out and purchasing Yahoo as well. Whoa, think about that.
The combination of two such search engines is just what Google needs in a competitor. Yahoo is still the most popular website in the U.S. and MSN has the financial backing to fund further development of technologies that could rival Google. Throw in a dash of advanced ad-serving technology like DoubleClick and this melting pot suddenly smells like danger.
But should Google really be worried? There are additional rumors that if Google won't steal DoubleClick away, they'll just build their own graphical ad-serving technology. It might even end up being better than anything DoubleClick has to offer.
Also, with combined market-shares, MSN and Yahoo would still be eating up only about a third of the PPC pie. Numbers can change though.
This could be huge. I'm assuming the only reason it hasn't caught internet-fire yet is because it is so far off still. Nonetheless, we should prepare ourselves for the realization that Google may soon have someone to play with.
Up Next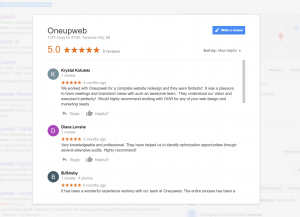 You've seen plenty of websites with a page of cherry-picked five-star reviews. But is that really convincing anyone? Probably not. However, there is a good way to embed Google reviews on your website to beef up your brand's perceived value. Let's get to it … How to Embed Google Reviews on a Website Reviews add...