Programmatic Buying – Huh?
Recently, digital media planners and buyers – those who determine the best mix of channels for an advertising or marketing campaign, and those who purchase the inventory – are moving to add programmatic buying to their online advertising tool belt. One of the latest buzzwords to hit the ad tech landscape – programmatic – is generating a huge amount of excitement in the industry.
But what is it exactly?
Programmatic simply means automated. A lot of people confuse it with buying ads through computer-run auctions – known as real-time bidding – but that's just one way to buy ads programmatically. At its core, programmatic buying is any ad buy that gets processed through machines. Programmatic is, in fact, the most promising way to achieve the long-sought-after marketing ideal of having your message reach the right person in the right place at the right time.
So that's the benefit of programmatic, it allows brands to digitally target ads to the right consumer like never before, but, in practice, the application can vary greatly. Ultimately, success or failure depends heavily upon three factors that a brand must consider:
1. Quality of your audience profile database
Underpinning any programmatic audience buying solution is your database of audience profiles. Robust profiles allow for more precise targeting. So instead of targeting 40-year-old married men for a life insurance campaign, we can, for example, target 40-year-old married men who are in-market shoppers for life insurance or have started researching life insurance online. To be effective, profiles must be accurate and rigorously updated based on the aggregation of secure, non-personally identifiable audience information.
2. Access to premium inventory
Consider how you can programmatically access premium, brand-safe inventory across display, online video, mobile, and social. You need to make sure to work with a partner that has a strong media relationship. Otherwise, without a critical mass of touch points in a qualitative environment, programmatic loses much of its effectiveness – no matter how good the audiences' database might be.
3. Solid strategy
The last piece of the puzzle is the human element. Specifically, it takes the expertise of humans to create audience databases, choose which audience profiles to target, and how best to action that targeting. Maybe, life insurance ads would be most successful with 40-year-old married men who went to university. Based on what the advertiser is trying to sell, your programmatic partner must be able to identify the most relevant profiles to target and then, when the campaign is running, make adjustments on the fly.
Programmatic buying is here to stay
Advertisers who are not up to speed with programmatic buying are potentially missing out on a key marketing development. The immediate benefit is getting the right ad to the right person at the right time. The long-term importance of programmatic buying is a virtual certainty: As the Internet becomes ever more connected to other types of media, there will be even more opportunities to better, more accurately serve ads and media to consumer. Market research company, eMarketer, estimates that programmatic spend in digital display advertising will rise to over $20 billion by 2016, which the company estimates would be 63% of all U.S. digital display ad spend.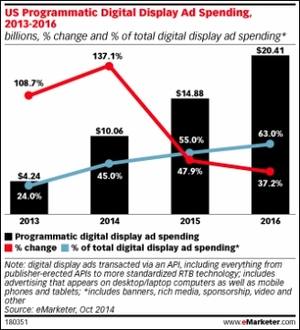 It's important not to lose sight of the fact that while the technology in programmatic is crucially important; it is people behind the technology who are steering the ship. With automation, the human touch – understanding which buttons to push or levers to pull (and in what order) remains critical to success.