Introducing Rebecca "This is Her Year" West
NAME:
Rebecca West
POSITION:
Graphic Designer
WHAT'S YOUR AVERAGE DAY LIKE AT ONEUPWEB?
I am delighted to be the newest team member – just four weeks on the job. I feel privileged, honored, and humbled to work with this great group of talented and brilliant people. It has been absolutely, wonderful and fun. My average day at Oneupweb is one of collaboration and learning. Right away I was asked for my design expertise on projects. I have opportunities to learn, train, and get certified on HubSpot, Google Analytics and other useful tools that will enable me to contribute more effectively. I love to learn new things so this has been great for me!
TELL US ABOUT A FAVORITE CLIENT MOMENT.
My favorite client moment was when I was working with a leading automotive company. I provided services as a graphic multimedia designer when the topic of a specific vehicle re-design for 2006 kept coming up. The designs created by the design department were met with dismay when presented at the company town hall meetings and as a result I was asked to illustrate a concept. My contribution was approved and combined with other design contributions resulting in a whole new vehicle design. The design went into production debuting as a 2006 re-design for the vehicle. My work was and still is on display, being driven all around the country. This was a favorite moment because the client had the confidence in me to ask for my contribution and of course because my contribution was a success.
TELL US ABOUT A FAVORITE ONEUPWEB MOMENT IN GENERAL.
A favorite moment at Oneupweb in general was on my first day when Teddy, the little Russian Tsvetnaya Bolonka (toy Bichon) in the office came over to my desk and greeted me. I thought he had a secret crush on me; remembering me from the interview process. It was heart-warming and adorable.
WHAT'S YOUR FAVORITE BLOG AND WHY?
The Nielsen Norman Group is my favorite blog. Nielsen Norman Group is arguably one of the most influential voices in the User Experience field. Through their blog they conduct groundbreaking research and evaluate interfaces of all shapes and sizes. It's a great source of inspiration for any UX designer.
WHAT MAKES TRAVERSE CITY APPEALING?
As a child, I vacationed in Traverse City and the surrounding areas often resulting in many fond memories. Traverse City is appealing because of all the beautiful water and trees coexisting next to all the necessary amenities the city offers. I like that I can live nearby in a very small town – out in the sticks – and not travel too far to get to the city for work.
WHAT DO YOU REALLY DO AT ONEUPWEB?
What I really do at OneUpWeb in addition to graphic design is web design and user experience design.
WHAT DO YOU DO WHEN YOU'RE NOT AT WORK?
When I am not at work, I enjoy live music, trying new restaurants, anything outdoors and off-roading in my Jeep Wrangler.
IF YOU WERE STUCK ON A DESERT ISLAND, WHAT OFFICE TOOL WOULD YOU BRING AND HOW WOULD YOU MAKE YOUR DEADLINE?
If I were stuck on a desert island, I would bring a stylus/ballpoint pen/laser pointer combo. I like playing with the rubber nib on the stylus and the laser pointer might keep me safe as well as serve to rescue me. With the pen tip, I could write a rescue note on some tree bark. I wouldn't be worried about any deadlines as I would have every day off until I got rescued.
YEARS FROM NOW, WHAT WILL STICK OUT MOST ABOUT 2017?
Years from now, what will stick out most about 2017 is a sense of strength, determination, and empowerment. After living in Colorado for thirteen years, in 2017, I gave away almost all of my possessions and packed up what I had left into a 6' x 12' U-Haul trailer. I hitched the trailer to my Jeep Wrangler (it's modified to haul stuff) and headed for rural Michigan. I had never trailered anything prior to this. I left Boulder, Colorado for a very small town near Traverse City! The trip was about 1300 miles and I made it all by myself. LOVE my Jeep Wrangler! I feel proud, strong, and unstoppable that I did all the giving away/letting go, packing, loading, driving, nights in creepy, cheap hotels, and unpacking all myself. I can do anything! Yay!
IT'S 5:30 PM – WHAT'S YOUR COCKTAIL OF CHOICE?
My cocktail of choice is a glass of dry, red wine. Any kind of wine is fine as long as it is dry and red.
WHAT'S THE LAST SONG YOU INTENTIONALLY LISTENED TO?
I can't mention here the last song I intentionally listened to by Lily Allen. It wouldn't be appropriate.
FAVORITE SPOTIFY/PANDORA/GROOVESHARK STATION?
My favorite Pandora would be anything with modern country music.
WHAT DO YOU CARRY IN YOUR PURSE/MAN-BAG?
Besides the usual wallet, glasses, phone and such, I carry a Swiss Army knife, toothpicks, safety pins and a sewing kit in my purse.
WHAT'S YOUR SECRET GUILTY PLEASURE?
My secret guilty pleasure is movie theater style popcorn from the Wesco gas station.
FAVORITE BOOK/MOVIE/ALBUM/TV SHOW/ETC…?
Book: "The Red Book"
Movie: Anything Sci Fi
Album: Luke Bryan's "Crash My Party"
TV Show: "The Good Doctor"
TELL US SOMETHING WEIRD/UNIQUE/QUIRKY ABOUT YOURSELF.
Something quirky about me is that I have OCD tendencies where I feel compelled to line things up parallel or perpendicular to each other. My desk is very neat.
DESCRIBE YOURSELF IN 3 TO 5 WORDS.
I am curious, relentless, and empathetic
WHAT WOULD YOU NOT BE CAUGHT DEAD WEARING?
I would not be caught dead wearing a formal gown.
WHAT'S ONE OF LIFE'S SIMPLE PLEASURES?
One of life's simple pleasures is a walk in the woods anytime of the year.
THE INTERNET IS LISTENING: GIVE US YOUR WORDS TO LIVE BY.
"Be a crazy one!" in the context of my favorite quote by Steve Jobs: "Here's to the crazy ones, the misfits, the rebels, the troublemakers, the round pegs in the square holes… the ones who see things differently — they're not fond of rules… You can quote them, disagree with them, glorify or vilify them, but the only thing you can't do is ignore them because they change things… they push the human race forward, and while some may see them as the crazy ones, we see genius, because the ones who are crazy enough to think that they can change the world, are the ones who do."
Up Next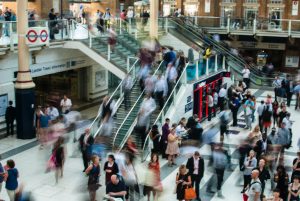 When you've worked in marketing for a couple of decades, you've surfed hundreds of waves of change in digital marketing. Through it all, these have been the top digital marketing FAQs we hear at Oneupweb. Cruise our answers to these marketing questions, and feel free to ask us something directly. Who should I be marketing...