Remarketing List for Search Ads: Oneupweb's Tips & Tricks for Optimal RSLA Performance
Are you currently running Remarketing List for Search Ads (RLSA) campaigns? Oneupweb Director of Paid Media Shawn Finn explains the benefits of this underutilized search campaign feature.
What are Remarketing Lists for Search Ads?
In order to implement Google RLSA campaigns, the Google remarketing tag must be placed on every page of your website that you want to track. Once implemented, this remarketing code tells Google to add users to a remarketing list that has been created. Once a remarketing list contains more than 1,000 users (cookies), Google will begin serving ads to your remarketing list. RLSA allows advertisers to customize search ads to customers who've previously visited your website, and tailor bids and keywords to this audience, while they actively search on Google.
There are two basic strategies that paid media manager's use with RLSA search ads.
One strategy is to bid on keywords that you don't normally bid on. This strategy allows advertisers to optimize bidding strategies on more generic terms, for users who have previously visited your website.
The other strategy is to optimize bidding strategies for existing keyword groups. For users who have previously visited your website, Google recommends increasing your keyword bid by up to 100.
Deciding which strategy to utilize depends on the overarching business goals that you have established for your paid media campaigns.
Setting Up RLSA Campaigns
Create a new "Search Network Only" campaign, or select an existing campaign and ad group to duplicate.
Click the Audiences tab, next to the Keywords tab
Click +Remarketing
Click the Add Targeting
Click the Select Categories drop-down and select Remarketing Lists.
All available remarketing lists will appear that have been created and select the audience list you want to target. The following chart is an example of what this looks like within the audience tab.

Tracking Performance
If you use third-party analytics software, it's recommended that you copy/paste an existing campaign and add the remarketing list to the RLSA campaign. This will allow you to track campaign performance outside of the AdWords UI with more granularities, enabling accurate performance optimization opportunities for advertisers. This table compares RLSA campaign performance against the standard search campaign.

Case Study Results
We have been testing RLSA campaigns for the majority of 2015 and we wanted to share our results with you. The following aggregate metrics were comprised by comparing each RSLA campaign to its respective search campaign.
Bounce rates decreased by 35%
Pages viewed per session increased 55%
Conversion rates increased 155%
Average order value (AOV) increased 13%
Return on ad spend (ROAS) increased 86%
CPC costs rose 18%
You may have noticed that cost-per-click metrics increased. This isn't something that should be alarming to advertisers. This audience segment is highly relevant; they've already shown an interest in your product/service, and you've optimized your bidding strategy to position higher on the SERP, resulting in higher CPC costs.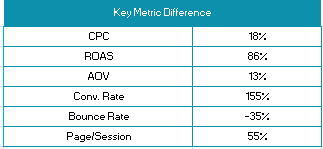 Considerations & Tips for Successful RLSA Campaigns
Within the RLSA campaign, make sure to include the remarketing audience that you've created to each ad group that you want to target. The targeting setting also needs to be set to "target and bid," not "bid only."
Make sure you set your bid adjustment. These users have already visited your site and are familiar with your product and/or service, so you'll want to optimize your bidding strategy for these highly relevant users as they continue to browse the web.
Within your traditional search campaign, you'll want to add these remarketing lists as negatives to ensure your customized ad variations are serving to the right audience, at the right time.
Categorizing your visitors by creating more, refined audience segments allows you to better tailor your ad copy and bidding strategies to optimize performance.
Bid aggressively
Update ad copy to entice consumers to take action
Test different remarketing lists membership durations and bid modifiers
Expand keyword lists to capture a larger audience
Summary
RLSA campaigns are a great way to gain incremental revenue/leads out of your paid accounts. As the data suggests, you're bound to see vast improvements for key performance metrics. Holiday shopping season is just around the corner and would be the perfect time to implement them into your accounts.
Don't get caught behind your competitors this season!