Rural Broadband: High Speed Internet For People Living In The Sticks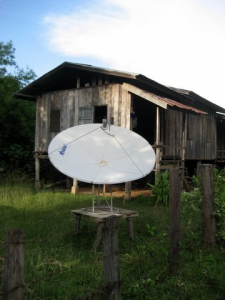 My folks live in the very house that I grew up in, and cable television still isn't available in their area – also eliminating the option for cable broadband internet. Their local AT&T telephone service said the current telephone wires and connection boxes in place are too old to support DSL broadband, and that is also the reason why their current dial up internet access is about half as slow as it should be (resulting in some truly sluggish speeds). Reliable cell phone service is also hit or miss, and the only 3G network available for them is three people at the gossip fence. Apparently this is also the case for many rural communities, as high speed internet access is either unavailable or comes at a premium price many rural Americans cannot afford.
Thanks to a new company providing high speed rural internet service through a fixed point wireless connection, my parents now have an affordable means to connect to the information super highway through a line-of-sight wireless connection to a tower over five miles away from their house. Previous efforts from their local cooperative electric service provider proved unsuccessful when a wi-fi tower was erected less than two miles away. Turns out it was blocked because the trees were too tall for their connection to work in that direction.
Can you imagine life today without the benefits of high speed internet access? 68 percent of today's high school students say that the internet is their primary source for homework research, and more than 75 percent of Fortune 500 companies only accept online job applications.
Many rural residents are still missing out on some basic internet opportunities that many of us can take for granted nowadays such as: electronic bill payments, banking online, online stock trading, travel planning and reservations, holiday shopping, and internet dating. Not to mention the social media phenomenon, which is still experiencing exponential growth.
The cost of this digital exclusion – The Great Digital Divide – has real consequences and is affecting the way of life for the "unserved" and "underserved" broadband internet population. There is a great study by the USDA's Economic Research Service called Broadband Internet's Value for Rural America that showcases the value of broadband internet service, especially in our recessionary economy, where online job searches and online education opportunities are essential.
The good news is that there is currently a Broadband Initiative funded by a $7.2 billion stimulus from the federal government. In the process of deciding where these funds are needed most, up to $350 million is being used to map out the U.S.'s current broadband services and areas of those who are in need. This map should detail where high speed internet service is available and how fast it is, helping us shape broadband policies for the future.
What could this information mean to the search marketing industry and your e-commerce business? If this map becomes available as public information, which I hope it is since we're all paying for it one way or another, there lies within a wealth of data – a treasure map of sorts. Each of these underserved or non-existent broadband areas will be charted down to the individual zip code on a national map, and this brings to mind many opportunities for geo-targeted PPC campaigns.
How about targeting computer and networking products and services to the rural population in these underserved areas? Many of these folks will be just beginning their foray into the information age, and starting from square one. What about the broadband service providers themselves? Those who do receive some of the broadband stimulus money from the government for funding and implementing their services should be well in place and easily found online well before the unserved and underserved public start looking for them.
My parents have been busy catching up to the times, thanks to their new broadband service. They have been online for two months now and have already placed and received orders for a wi-fi router in their home, a laptop PC, a high efficiency industrial wood stove, a chainsaw and kayaking equipment. They've also already started their holiday shopping. They have planned and made reservations for a spring break getaway, and are currently doing research for a new snowblower and ATV (to be delivered right to their door).
These purchases could have been sales for your e-commerce business – it just takes the magic and know how of a well targeted PPC campaign to serve your ads when and where these new buyers are looking. Call Oneupweb if you need help getting your new PPC campaign started, or to take your current campaign to a whole new level. It takes time, patience, and know how to do this right, and we're darn good at what we do!