Search – The Opportunities Are Everywhere
Today marks the start of the 5th annual Traverse City Film Festival, which of course has got me thinking about the opportunity to see great films that otherwise might not ever make their way to Northern Michigan.
But film isn't the only thing that comes to mind for me. Oddly enough, it's also got me thinking about search marketing.
What does the Traverse City Film Festival have to do with search marketing, you might ask? Well, it's a perfect example of yet another search opportunity for businesses, mainly local businesses.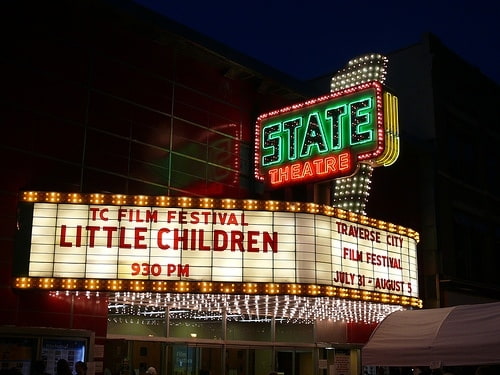 Consider for a moment how many people come to the Traverse City Film Festival from out of town, and the impact that this has on the local economy. Consider now that you're the proprietor of a local business-say a local hotel, restaurant or any other activity that film goers are likely to be a patron of while they are in town to watch the films.
At what point in time do you want to start to get your message in front of this film audience? That's right, as early as possible-probably when they are just starting to make their initial travel plans.
So let's say someone is planning on attending the Traverse City Film Festival, there's a good chance that a search engine will be involved during the initial stage of the plan making process. What opportunity is there for your local business to get in front of these people if they search, say "Traverse City Film Festival"?
Well let's see, Google often times will offer recommendations for related searches. Do you see any opportunities in there?
But let's not use those boring old text links. Why not make this even more fun by breaking out the Wonder Wheel?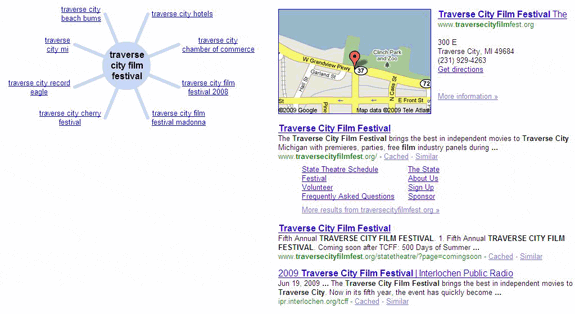 That's better. Now let's say you operate a Traverse City hotel. And don't out-of-towners typically need of a place to stay? So let's just suppose that some of these out-of-town film goers click on the "Traverse City hotels" link in order to find a place to stay. Are there any opportunities there?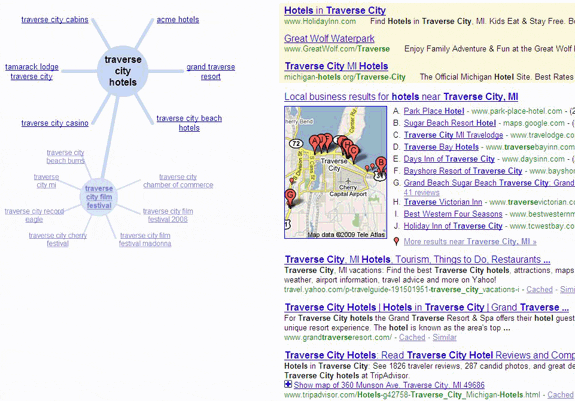 If I'm running a hotel in Traverse City, I can see four opportunities right off the bat.
1) Paid search – self explanatory (read up if you're not familiar with paid search opportunities).
2) Google Maps – Local business results are front and center in local based Google queries-submitting my business here is definitely a priority.
3) Yahoo Travel – offering a wide variety of travel related information/resources-I'm making sure my hotel is included here.
4) Trip Advisor – offering reviews and comparisons of local hotels-I definitely want to make sure my business is included here as well.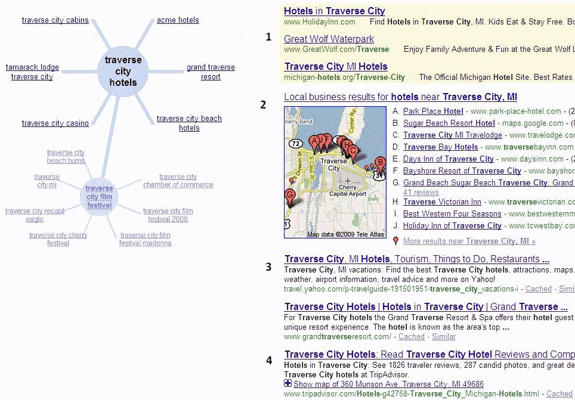 Notice that I didn't even bring up ranking high naturally in the search results, and yet, I was still able to identify four immediate opportunities to make sure I'm in front of my target audience within the SERP (search engine results page).
In my opinion natural search optimization is fundamental and always will be, but search has become a much more dynamic space than that, and as a result, the opportunities are ever growing.
So what's the key to success in today's search environment? Get creative, identify your opportunities and Be Relentless!