Searching for Whatever that Game is Called…
I don't know if it is a cultural, regional, blast from the past, or a passing fad phenomenon, but whatever you like to call this game, you can no longer ignore it.  I have recently played the "Cornhole" game in 3 different regional settings, with 3 different names for the game (and found out that I have some serious potential). I wanted to do some online research to find information on either buying or building my own "Cornhole" set, so that I can have my own game at home and practice up for the next competition.
Wikipedia has the entry logged under the term "Cornhole", which is how some of the competitors I know in Mt. Pleasant, MI, refer to the game. Meanwhile, over in nearby Elk Rapids, MI, the game is referred to as "bag hole". In the parking lot of the Alpine Valley Music Theater in WI, it is known as "tailgate toss". Wikipedia also refers to this game with a variety of other official names, such as "bean bag toss", "bags", and "baggo".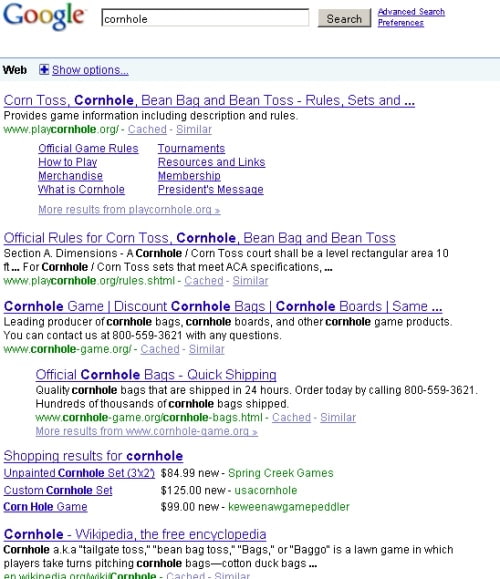 A Google search for the term "Cornhole" (shown above) returned some interesting results: 791,000 in fact. There were also a few more variations on the name of the game itself (Indiana Horseshoes and bean throw). There were many natural and paid listings that appeared to help guide me on my search. The website for the American Cornhole Association (ACA) appeared in the natural search results for many of the different name variations that I was searching for. They clearly displayed in their description and title tags that they were a qualified source for the information that I was seeking, and also provided a sense of "knowing their varied audience" by taking the initiative to appear in the results for the numerous names that people might call the game.
On their website, the ACA clearly listed the purpose of their chartered organization: to promote and grow the game to all fifty of the United States, to educate and inform those new to the game, to standardize the game and the rules, to recommend equipment and standards, to establish a ranking and rating system for tournament play, and to provide a forum for Cornholers around the world to share ideas, information and stories. This website also contained many easy to find links to rules, scoring, game board and bag dimensions, and numerous game products and accessories for sale.  There were also many "officially licensed" college and professional sports team branded boards and bags, as well as "official" scoring towers to help the players keep track during the heated battles. Some of these scoring towers also featured beverage holders conveniently attached to them, however, the great ones who taught me the finer points of the game said that holding your beverage while throwing the bags was essential for balance and maintaining fluidity during competition.
Cornhole and the many name variations are essentially the same game, but with a few small differences. "Official" Cornhole rules, according to the ACA uses 4'x2′ game boards, whereas the "bean bag toss" and "tailgate toss" variations play with a 3'x2′ board.  The bean bags, or Cornhole Bags, remain the same standard size of 6″x6″ (although there is debate as to the perfect bag filler). So it's basically just the game boards that differentiate the games, while the dimensions of the playing field, scoring, and player throwing rules maintain uniformity across these variations.
Some of the pre-made regulation and branded Cornhole game boards seemed rather pricey for me to make an immediate purchase, and since I am a novice woodworker, I thought that I would also look up some information on building my own set (basically a board with a hole in it, and some hand sewn bags). An interesting website called "Cornhole Cornhole" provided some great tips and plans on how to build my own game set, as well as some needed strategy and terminology to read up on.  Reading the numerous responses to the various topics could take forever, but there were some very serious players responding to some very serious topics about the finer points of the game.
While Cornhole – or whatever you call it – is a physical game played with official products, rules, and regulations, it appears that it's also a game that is competing for your business within the online space. With many different companies and organizations trying to provide you the valuable game information and products for sale, it is a fierce battle being fought within the natural, paid, and social online arenas as well.
Whatever the product, service, or information that you or your business is selling or providing, keep in mind the need to diversify your online portfolio. Don't forget to take into account the fact that online searchers may know exactly what they want, but might not know exactly what it is called or where to find it. Be where your audience is searching, and be descriptive as to what makes your business the best source for what these searchers want and need.
Here is an fun added bonus: a link to the Cornhole song video posted on YouTube.  Enjoy!