Content Strategy Seasonality: The Reason for Your Calendar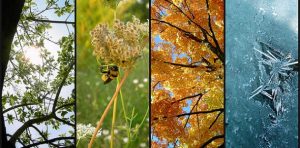 As content marketers, its our responsibility to stay one step ahead of what our audiences' minds gravitate to naturally. One of the easiest pieces of that puzzle to keep track of is the changing of the seasons. Keeping your finger on the pulse of trends, expectations, and requirements that repeat themselves on an annual basis is called seasonality. We're here to tell you more about how to use seasonality – that is, a characteristic of a time series in which the data experiences regular and predictable changes that recur every calendar year – to your advantage when planning your content calendar.
Determining Your Content Strategy Seasonality
We usually drill it down from broad international and national holidays all the way down to those industry-specific trends and celebrations that you can capitalize on. If you're lucky, you'll get your editorial calendar planned out for the whole year before leaving this post!
Obvious International and National Trends
There are some annual events that have been engrained in your psyche since grade school. For me, those include:
January – New Years Day
February – Valentine's Day
March – St. Paddy's Day, First Day of Spring
April – Easter, Earth Day
May – Mother's Day, Memorial Day
June – Father's Day
July – Fourth of July
August – Dog Days of Summer
September – Labor Day
October – Halloween
November – Thanksgiving
December – Christmas, New Year's Eve
Every brand has their own way of incorporating these important dates into their editorial calendar. For B2B companies, your best bet is to simply wish your audience members a happy one. For B2C, it's best to ask your audience how they're celebrating. E-commerce brands are likely running product specials for these big trends, so make sure you're thinking ahead and including the communication of those discounts and specials in your calendar.
Quirky Days and Months of Celebration
Did you know that April 2 is Pillow Fight Day? The entire month of August is National Golf Month, as well. From celebrating Oatmeal Muffin Day on December 19 to Feed the Birds Day on February 3, there's at least one or two quirky or funny holidays, anniversaries, or celebrations that you can include in your editorial calendar.
So, do some research into the holidays and events that you may not know about. ThriveHive puts together a great calendar template every year, and quick Google searches for "holidays in [month year]" will give you a handy Knowledge Graph right at the top of the SERP.
Finding ways to incorporate fun holidays into your editorial calendar is a big step towards keeping audience members engaged in your brand's communications. It helps liven up even the driest of subject matter so that no matter your industry, you're still reminding folks that a little sense of humor can go a long way.
Industry and Organization-Specific Days of Celebration
Speaking of industry, there are sure to be plenty of celebrations and events that are added to your internal administrative calendars every year. One of our clients is insistent upon including "Healthcare Administrative Professionals Week" in their content planning, and we're happy to oblige. Check in with your office administrators to make sure your calendars are jiving with theirs so you can plan your posts for these celebrations in advance. That way, you're not stuck with a never-ending supply of "week in review" posts. Instead, you can think ahead and come up with fun, fresh new ways of communicating about things that occur in your office or industry annually.
How to Check What's Trending
Once you've collected all of this holiday data, you can take your trend research one step further with Google Trends, which is a public web facility based on Google Search that shows how often a particular search-term is entered relative to the total search-volume across various regions of the world, and in various languages.
If you're like us, you might spend weeks in a rabbit hole of seasonal search query data, comparing your target keywords to synonyms and timeline differentiators within the "Explore" feature. You can look at data through the lens of location, time of year, and category to drill your keywords down even further.
If you're curious about the best way to use Google Trends, the only recommendation we can make is – just start playing with it. This robust tool is one of the best free resources on the web, and each of us has come up with his or her own way to best utilize the data.
Where This Goes On Your Calendar
Seasonal data is usually the first addition we make to our draft content spreadsheet, after building out all of the column titles and day-by-day rows. There are plenty of resources that can help, whether you've grabbed the ThriveHive one we wrote about earlier in the post or if you spend some time with HubSpot's myriad editorial calendar templates.
But, if you'd rather let someone else do the heavy lifting on determining your content strategy seasonality, we'd love to work with you and your keywords to produce the seasonal data you need. Get in touch to let us know how we can help!