Service, Please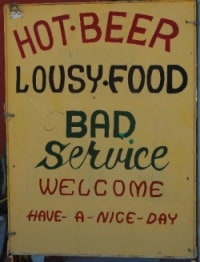 There's nothing more frustrating than being put on hold by a customer service representative, only to never be retrieved. Or how about when you're searching all over a store for a sales associate, and when you finally locate him/her, you're greeted by a dumbfounded mumble, "This isn't my department." (Like you're expected to know that already or something?) And I'm sure everyone has experienced the customer service rep (in my case, the cable guy) who says he'll be at your house sometime between noon and 5pm, and then never shows. And the worst part about it—receiving the, "We're sorry we missed you!" sticker the next day.
I ask myself time and time again why companies think this type of customer service (or lack thereof) is acceptable? And I often wonder if perhaps 2010 will be any different than the last in terms of quality customer care.
Personally, I'm sick of the lousy service that seems to be the standard today. And now that the holidays are over, I'm predicting that any decent customer care being doled out is likely to vanish as quickly as Christmas came and went. I have rarely returned to a business after having experienced poor customer service—I guess I'm not one for second chances. And I definitely don't mind venting about that experience with friends, family, coworkers or on social media sites. My weapon of choice—Facebook.
But are companies really willing to lose billions because of substandard customer service? A recent study by Greenfield Online, "The Cost of Poor Customer Service: The Economic Impact of the Customer Experience and Engagement", found that a total of $338.5 billion in revenue was lost overall per year. So to answer my question, I guess they are.
With many businesses experiencing slumping sales, it doesn't seem like the right time to be slacking on service. Saving money wherever possible will certainly help the bottom line—but perhaps businesses should consider alternative ways of doing this before sacrificing the great customer service reps answering the phones. (Like maybe using a less expensive brand of toilet paper?) Okay, okay—but you get the point.
Or another smart move might be browsing through the services offered at Oneupweb—in particular, online reputation management. Because people are talking about your brand, and whether it's good or bad, your business should really know what's being said about it.
I hope that 2010 will be remembered as the year that customer service turned itself around—but regardless, it pays to have the pros on your side when it comes to monitoring what's being said about your brand online. And one thing's for certain, at Oneupweb we're pros at what we do. And best of all, we throw in the exceptional customer service at no charge.