Share & Organize Tweets with Twitter Lists
Twitter began rolling out its Lists feature in mid-October, but now all users of the social networking tool have the ability to create and share their very own Twitter Lists.

In a nutshell, Lists let you organize Twitter users into groups and then share that list with others.
As @BIZ of Twitter points out in a recent blog post:
Anyone can curate and publish lists, so if you have an idea for one, just click "New list" in the sidebar of your Twitter account and you're on your way. Add accounts to a list using the "Lists" drop drown on a profile page. We believe Lists will be a new discovery mechanism for great tweets and accounts.
As a user you can easily subscribe to another user's Lists, and users can easily subscribe to your Lists. In effect this helps organize the vast amount of information being continuously shared on Twitter. By organizing tweeters by industry, location, service specialty, last name, etc. you can essentially streamline your information intake while helping Twitter to organize its users into a multi-tiered directory of tweets.
But there are limits. Josh Catone at Mashable says:
Keep in mind that each list is currently limited to 500 people, and users may create a maximum of 20 lists. These limitations could change in the future.
Twitter has already released a Lists Widget that you can easily embed into your website or blog to showcase your favorite Lists.
One of the many questions raised by the new feature is whether Lists will translate into a "popularity" factor for ranking Twitter profiles. Similar to how Google uses links from other websites to help determine organic search positioning, Twitter, or the search engines themselves, could incorporate the number and/or quality of lists as part of a ranking algorithm.
Looking at anyone's Twitter profile, you can easily see how many lists they have been added to: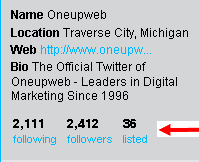 Regardless of the behind-the-scenes uses for Lists, this new feature is one that definitely enhances the social phenomenon that Twitter has become.
Image Credit: Twitter Icon