Social Media: Are You a Maven or Wallflower?
It's no longer about just selling a product or service; it's about developing a community around your brand and encouraging your customers to interact and join. While measuring an exact ROI is still difficult to quantify, social media has become an essential marketing tool. Virtually all companies, big or small, have acknowledged the presence of social media.
With no definitive understanding of what success looks like, initial measurement trends focus on depth of engagement. Depth of engagement can be defined by the breadth of social media channels one participates in as well as the level of engagement in each channel –  regular initiation of discussion and participant/group feedback. A more traditional marketer's perspective may be to consider the number of 'digital touchpoints' your brand offers.
Recently, Charlene Li of Altimeter Group and Ben Elowitz, CEO of Wetpaint, released a study titled Engagement db. The report focused on the world's top 100 brands and how well they are engaging consumers using social media. The key findings in the study revealed a significant correlation between deep social media engagement and financial performance. Those brands with deeper engagement at the right places performed better financially.
The Four Engagement Profiles of Social Media Brands
The report identifies four specific 'engagement profiles' for each brand.
Mavens: These brands are engaged in seven or more channels and have an above-average engagement score. Brands like Starbucks and Dell are able to sustain a high level of engagement across multiple social media channels. Mavens not only have a robust strategy and dedicated teams focused on social media, but also make it a core part of their go-to-market strategy. Companies like these could not imagine operating without a strong presence in social media.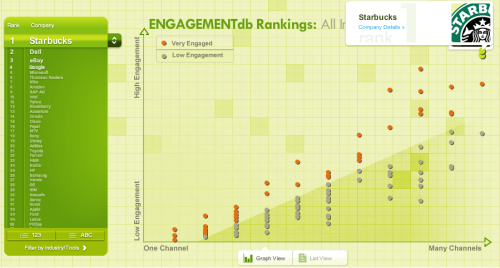 Butterflies: These brands are engaged in seven or more channels but have lower than average engagement scores. Butterflies like American Express and Hyundai have initiatives in many different channels, but tend to spread themselves too thin, investing in a few channels while letting others languish. Their ambition is to be a Maven and they may get there – but they still struggle with getting the full buy-in from their organizations to embrace the full multi-way conversation that deep engagement entails.
Selectives: These brands are engaged in six or fewer channels and have higher than average engagement scores. Selectives like H&M and Philips have a very strong presence in just a few channels where they focus on engaging customers deeply when and where it matters most. The social media initiatives at these brands tend to be lightly staffed – if they are at all – meaning that by default, they have to focus their efforts. These are beachheads, started by an impassioned evangelist with a shoestring budget
Wallflowers: These brands are engaged in six or fewer channels and have below-average engagement scores. Wallflowers like McDonalds and BP are slow to or are just getting started, dipping their toes into social media waters. They are still trying to figure out social media by testing just a few channels. They are also cautious about the risks, uncertain about the benefits, and therefore engage only lightly in the channels where they are present.
Not Just For-Profit
Social media is currently one of the most creative communication channels out there. Participation should not be limited to for-profit businesses. According to The Columbus Dispatch, some central Ohio cities are trying out social media. So far, content includes festival photos and memos about road closings. A Gahanna resident actually used Twitter to report roadkill, which city officials promptly cleaned up.
Another example is the Puget Sound Blood Center in Seattle, Washington. The blood center's online campaign launched earlier this summer has already generated 400 fans on Facebook and 1,200 followers on Twitter. Many of the PSBC donors explained that they would have never thought about giving blood unless they hadn't been approached by the center on either Facebook or Twitter. When Type O supplies dropped during last month's heat wave, blood center officials further relied on social media to find new donors. Those efforts paid off as the number of people interacting with the blood center doubled, with participants helping to get the word out about the shortage.
For me, it never gets old reading about the unique ways social media has been leveraged. While we're only in the early stages of social media evolution, it's important to ask yourself where your engagement level fits. Are you a Maven or are you a Wallflower?
Up Next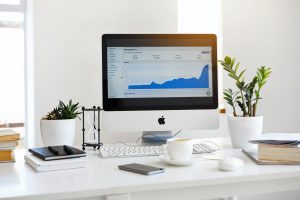 As of October 14, 2020, the "request indexing" feature within Google Search Console's URL inspection tool is down, and they expect the outage to last at least a few weeks while technical updates are made. This function is a valuable part of any SEO's toolkit, allowing us to inform Google immediately when new content is...