Social Media Marketing for Franchisors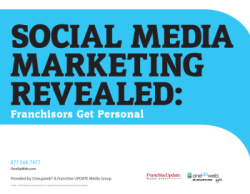 93% of Americans want companies to have a social media presence. That's quite an astounding statistic when you think about it. Your prospective and existing customers aren't hopeful they'll find you when seeking out your brand in social outlets, they're expecting to find you.
The thing that makes it so astounding is that such a high percentage of people expect brands to have a presence when this form of media is so relatively young. Many companies of all sizes have started embracing the power of social media and the inherent benefits of ongoing dialogue with their prospects and customers, while many others are hesitant to jump into the mix – franchisors included.
Financially speaking, social media has a low barrier to entry, which is why it's not necessarily the financial investment that's keeping many franchisors from getting their feet wet in social media. One of the biggest barriers to entry is a lack of expertise. Not knowing how to best utilize social outlets, or even which outlets they should focus on, is a common concern, and rightfully so. And while it's important to have a plan and some foundational pieces in place prior to launching a social media marketing campaign, including a purpose, strategy, specific audience and objectives, it's also important to not over think your strategy to a point which prevents you from ever taking that leap.
Franchisors have the triple duty of generating new leads for the franchise part of the business, driving consumer sales, and supporting their existing franchisees. Social media lends itself to each of these, and to a large extent far more so than other forms of media.
When it comes to utilizing social media for business development, a common misconception is that it doesn't make sense for that audience. For franchisors, research by the Kauffman Foundation shows that the majority of entrepreneurs are middle-aged – 40 years old on average and married with children. Are they spending time within social outlets? Quancast statistics show that those 35 and older account for half of all social network visitors. In fact, 35+ is the fastest growing age demographic on Facebook.
Your franchise audience is out there, and they're partaking in conversations with your customers, with your franchisees, and possibly with your competitors. They're information-hungry and in search of transparency. Relevant dialogue is taking place within social outlets whether you're there or not.
Establishing a social media presence geared toward serving the needs of prospective franchisees should involve strategies which differ dramatically than those geared toward utilizing social media for brand awareness and consumer sales.
As with targeting prospective franchisees, you should have a plan to reach your customers within social outlets. The specific plan and corresponding outlets you focus on may differ entirely when attempting to reach customers versus franchisees, but knowing where they are and reaching them is only half the battle. The other half is compelling them to act in a way which is facilitated through ongoing engagement. Know where your audience is at, know what drives their purchasing decisions, know the action you want them to take, and figure out how best to capture their attention based on your assets and resources.
Beyond driving business development and consumer sales, social media can be leveraged for inter-franchise communication.
The Internet has brought about a demand for transparency, and social media serves as an ideal way to meet this demand. With social media, your customers and franchisees are now a part of your sales force. Relevant conversations are taking place, with or without you, so take advantage. Make sure your franchisees are up to speed on what's going on at the corporate level, from marketing strategies and challenges to successes. Use social media to listen, to share ideas, to leverage the power of collective intelligence, and to ultimately create a unified brand image.
The demand for more information and greater transparency is applicable on all levels. It's no longer a question of whether or not to go social, but rather the extent to which you're going to embrace it and allow this unique media to benefit your business.
Find out more about how social media can help grow your franchise business by downloading Oneupweb's free white paper: Social Media Marketing Revealed: Franchisors Get Personal.