Social Media Marketing: Ignorance Is Not Bliss
Many people research products, services and businesses online before they make the decision to buy. You've probably done it yourself; logged onto that thing called the World Wide Web and searched for the product or service you're thinking of buying. That being said, it's crucial to have favorable results about your company when users look for your products in search engines – especially in social media networks like Twitter, Facebook and YouTube.
In fact, social media marketing should be a crucial part of your brand's reputation management, which in turn should be a key element in your overall online marketing strategy. Having a good reputation online is key. According to MarketingSherpa's 2009 Social Media Marketing and PR Benchmark Guide, "At least two-thirds of consumers agree that recommendations and information from other people online are valuable, relevant and influence their purchase decision."
Let's put this into perspective. Say you buy a product from Company123 at the brick and mortar store, and you had a negative experience with the customer service. You're miffed, in a huff, you can't believe that guy behind the counter said that to your face! You're so annoyed you decide to tell your friends about it on Twitter, on Facebook, and while you're at it, on your blog!
Now Company123 has negative commentary that could very well show-up in Twitter search results, search engine search results, and now the Facebook community is getting wind of Company123's crappy customer service. Unfortunately, Company123's marketing department falls into the statistic where "62 percent of marketers neglect to join the conversation either by not monitoring social media or not responding to negative commentary."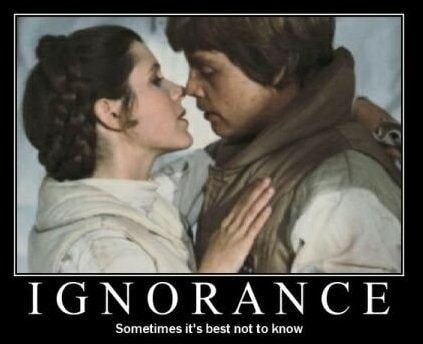 Unlike the image above, ignorance is not bliss in the case of online reputation management. Just because you don't monitor your business's online reputation doesn't mean people aren't talking about it. Piece of advice: monitor your company's reputation online. Monitor not only in search engines, but in social media networks. Because those one or two negative comments a potential customer saw on Twitter could sway her from a purchase.