Social Media & Reputation Management: Did Pepsi Do All They Could?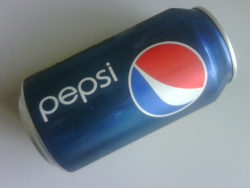 According to the Orlando Sentinel, On July 23rd, a couple from Ormond Beach, FL was outside grilling, enjoying the summer weather, when Fred Denegri decided to open a can of Diet Pepsi to enjoy with his meal. After taking his first drink of the Pepsi, Fred noticed something was terribly wrong with his drink. It didn't have the same refreshing taste as every other Diet Pepsi that came before. No, this can was different. So he decided to dump it out, and much to his surprise, something else came out along with the remains of the pop. What looked like the tail of a mouse hung out the opening of the can.
Soon after, an FDA official retrieved the can for further testing. Tests are still out on what exactly was inside the can and how it might have gotten in.
Pepsi spokesman Jeff Dahncke issued a statement saying "It is virtually impossible for this type of thing to happen in a production environment. We run about 1,250 cans per minute on these production lines. Their speed, along with the rigorous quality control systems we have in place throughout our manufacturing process, give us great confidence in the quality and safety of our products."
But will this statement be enough to save Pepsi from losing customers to their rival, Coca-Cola (which I prefer anyways, but that's neither here nor there)?
Now would be a perfect time for PepsiCo to use social media as part of their reputation management. While reading comments on Twitter about the subject, one person tweeted: "I'd hate to be on their PR team right now. I think I'll stick to water." Another said, "I'm never drinking soda again."
With comments like these, I'd hope Pepsi's Twitter page would be conducting some reputation management. But when I went to Pepsi's page, there wasn't a single mention of the mouse incident. I must admit, I was quite surprised by this. Sure, they issued a formal statement about the issue, but with social networking becoming such a main source of information, one would surely think a company as big and well known as Pepsi would have jumped on the bandwagon and protected their brand's name. Maybe they didn't want to draw more attention to the subject? Even so, people are talking, and a lot of it is not in Pepsi's favor.
I also went to Pepsi's Facebook page and saw no mention of the mouse-in-can incident. Sure, Pepsi seems to be involved in social media marketing, but when it comes to reputation management, is Pepsi using the resources available to it?
In the end, social media marketing is a great way to reach your target audience, and in those terms, it sure seems like Pepsi is succeeding. After all, they are one of the largest beverage manufacturing companies there is. And honestly, I don't think this incident with the mouse will really affect Pepsi all that much. Even Mr. Denegri claims he'll continue to drink Pepsi (albeit after being poured into a glass). But could Pepsi have used social media more to their benefit when related to brand reputation management? What do you think?