Social Media Site Traffic Increases 82% Worldwide
Wondering if marketing via social networks is worth your company's time? New stats from Nielsen should help you answer that question.
According to Nielsen's recently released research data, consumers worldwide spent more than 5 ½ hours on social networking sites in December 2009. That's up from a little more than 3 hours in December 2008, and 2 hours and 10 minutes in December 2007.
So according to Nielsen, time spent on social networking sites by people around the world has increased 82% in just one year. In addition, overall traffic to social networking sites has significantly spiked as well.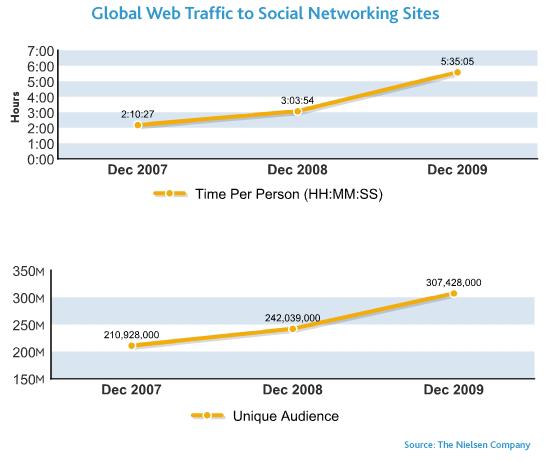 But wait, there's more!
Nielsen says Facebook captured 67% of the global social media audience last month, with 206.9 million unique visitors. In the United States specifically, Facebook towered over its peers on the list of most visited social networking sites.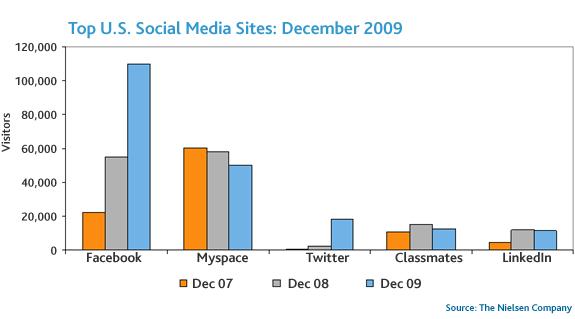 Similar to the data for global users, U.S. users are also spending much more time on their favorite social networks:
People in the U.S. continue to spend more time on social networking and blog sites as well, with total minutes increasing 210% year-over-year and the average time per person increasing 143% year-over-year in December 2009. Year-over-year growth in average time spent by U.S. users, for both Facebook and Twitter.com, outpaced the overall growth for the category, increasing 200% and 368%, respectively.
Interesting Stat: Australians top the list of most time spent on social media sites, spending an average of almost 7 hours in December. (That's a lot of G'day, Mates!)
For some reason, I don't question Nielsen stats as much as I do stats from other research companies—probably because of the company's history of measuring broadcast media audiences. But if, like me, you're interested in how Nielsen acquires its data, you can learn more about it here.
This Nielsen data helps paint the picture of what we see happening online: social networks are becoming the user's window to the Internet. Social networks are providing the content, information, recommendations and engagement that online audiences want and need.
Still wondering if your company should engage customers via social media? We can help. Check out Oneupweb's Social Media Marketing Services to get a better idea of what we do, in addition to where we like to be social, too.