StraightUpSocial News Links for 10/21/2009
Nick O'Neill at All Facebook tells us about recent upgrades to Facebook Groups, including the addition of group activity into a user's news feed.
Laura Sydell at NPR takes a closer look at the offline, and online, social divisions between Facebook and MySpace users.
Jeremiah Owyang at Web Strategy by Jeremiah Owyang shares his thoughts on tools that local businesses should be using to attract and keep mobile customers.
Up Next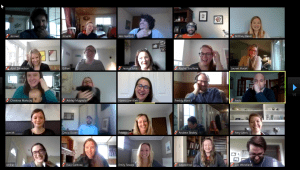 Building Remote Company Culture We've been working from home for … approximately 3,781 days. Just kidding. Obviously, our marketing agency is blessed to be able to continue working remotely, providing services to our clients and staying healthy all the while. Even before 2020 threw us a curveball, we had a flexible work-from-home policy and a...