StraightUpSocial News Links for 7-13-2009
Marketing Pilgrim reports on how Facebook is facing lawsuits regarding click fraud from RootZoo and a counter suing Power.com.
Mashable takes a look at the SuperFan social networking site highlighting fans' dedication to sports teams, musicians, movie stars and more.
Andy Beal discusses his conspiracy theory regarding Twitter "ads."
Up Next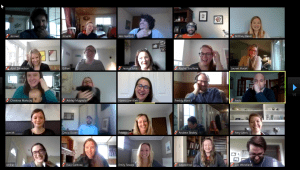 Building Remote Company Culture We've been working from home for … approximately 3,781 days. Just kidding. Obviously, our marketing agency is blessed to be able to continue working remotely, providing services to our clients and staying healthy all the while. Even before 2020 threw us a curveball, we had a flexible work-from-home policy and a...