StraightUpSocial News Links for 6/16/2008
Saul Hansell at The New York Times has the details on a decision made by the Associated Press to set clear copyright standards for its news stories and broadcasts. The decision will likely have the greatest effect on bloggers who frequently quote A.P. articles.
Michael Arrington at TechCrunch responds to the A.P.'s decision by pointing out, "The A.P. doesn't get to make it's own rules around how its content is used, if those rules are stricter than the law allows." Arrington also announces that A.P. stories are banned from TechCrunch and he encourages other bloggers to follow suit.
Nick O'Neill at Social Times shares his recent experiences at the Blog Potomac in Washington D.C., specifically focusing on how large news media companies are recognizing the need to adapt to the flexibility of smaller, efficient news blogging teams.
Up Next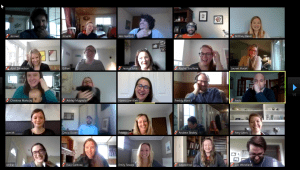 Building Remote Company Culture We've been working from home for … approximately 3,781 days. Just kidding. Obviously, our marketing agency is blessed to be able to continue working remotely, providing services to our clients and staying healthy all the while. Even before 2020 threw us a curveball, we had a flexible work-from-home policy and a...