Strap on Your Lollerskates, It's the Best of April Fools' 2014
It's here. The most fun day in all of Internetdom. It's April Fools' Day!
This is the day the world celebrates the fine art of the prank, and over the past few years companies with strong digital roots have embraced this day and turned it into a celebration of creativity and humor.
We've seen unique stunts in the past such as Vimeow, the one and only source for cat videos and the ever-infamous Google Nose, which brought smell-o-vision into the realm of reality for one brief imaginary moment.
This year also has not disappointed. It has given us the #newtrends hashtag, a uniquely aromatic perfume and the opportunity to become a true Pokémon Master. So, without further ado, strap on your lollerskates and hop into the ROFLcopter, we are going for a ride…
1. YouTube Trends
Did you know that YouTube is responsible for Gangnam Style? The Harlem Shake? What Does the Fox Say? Yes! Our friends at YouTube are responsible for every viral video ever. And now we—the little people of the Internet—have the opportunity to participate in this genius. Just tweet your 'viral' idea to hashtag #newtrends. Who knows, you could be the next YouTube star.
2. Google needs a Pokémon Master
The job of your dreams is here!
Do you love Pokémon? Do you have to catch 'em all? Have you always secretly dreamed of being a Pokémon master? Do you love all things Google? Apply today!
3. Cheeteau by Chester
Ahhhh, can you smell it? The alluring aroma of aged cheddar. Yes! Finally! It has been bottled and packaged for all to enjoy. Stay Cheesy, my friends.
4. LinkedIn CYMK (Cats You May Know)
As all busy business professionals know, it is important to network. LinkedIn has now implemented a new tool that will help us cat-nect with our furry feline friends faster.
Everyone knows the Internet is made of cats. So why not cat-nect today?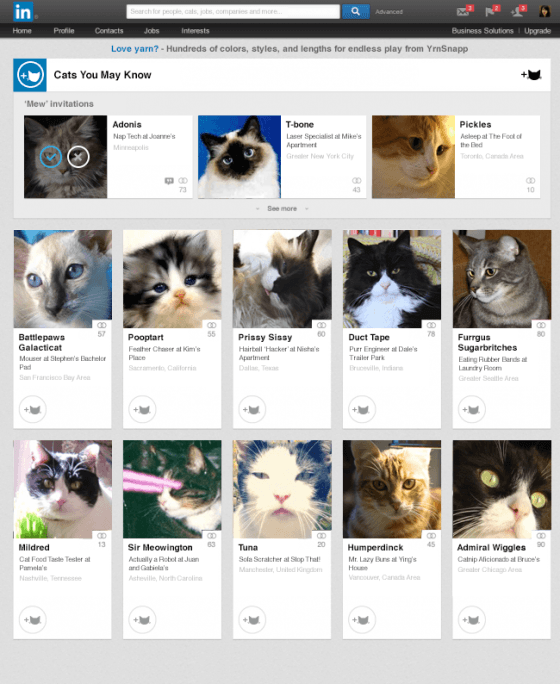 5. Selfiebot
Are you, like me, tired of having to stretch your hand out every time you want to take a selfie? It is exhausting. Selfiebot is here:
6. Coffee Meets Bagel Comes to Google Glass
Glassholes rejoice! Dating has just gotten easier. No more typing away, building profiles and sending emails—just one quick look to the right and a few voice commands is all you need to enjoy the next big step in dating technology. Go ahead, stalk your cute neighbors, get all their info and see who are the most compatible matches in your area.
That's it so far…or is it?
April Fools' Day presents a unique opportunity for businesses. Simple 'jokes' can create a lot of social buzz and heighten brand awareness in ways that traditional messaging does not. No one can deny, we love to be entertained and we love the brands that entertain us.
So start planning for next year. Because it can be extremely beneficial to be lighthearted, dream big and be just a little wacky from time to time.