Summer CSA Recipe–How Do You Eat Your Kohlrabi?
Wednesday is fast becoming my favorite day of the work week. Why? Because it's CSA day! By the time 3:15pm rolls around—I am running to the lunchroom to see what's in this week's box of straight-from-the-ground, flavorful vegetables. This week's CSA from Meadowlark Farms brought delicious kohlrabi, garlic chives, broccoli, baby kale (YUM!), bok choy, radishes, herbs, rainbow chard, spinach and mixed greens.
After work, I go straight home and start cleaning, chopping, grilling, sautéing, and creating new (and healthy) recipes. I find that if I wash everything right when I get home and store in individual (reusable) Ziploc bags, then I will actually eat them all because it's easier to make a quick salad, or grab a veggie snack if it's already prepped.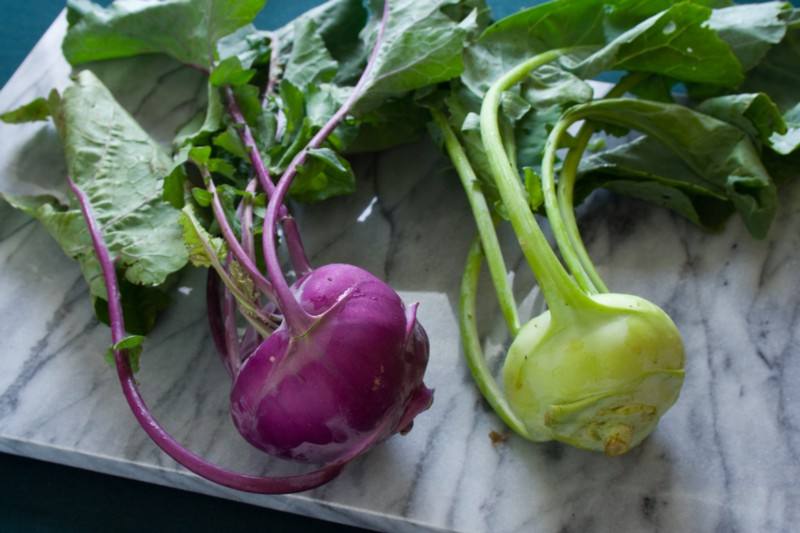 Since recently discovering a love for radishes, I knew I was going to use those—but what the heck is kohlrabi? Kohlrabi resembles a giant turnip, and tastes like a combination of cabbage and broccoli. It can be either eaten raw or cooked. Because I wanted to roast some radishes to go with the chicken below, I just decided to roast the kohlrabi too. Roasting vegetables brings out their natural sweetness, while also giving them a nice crispy texture.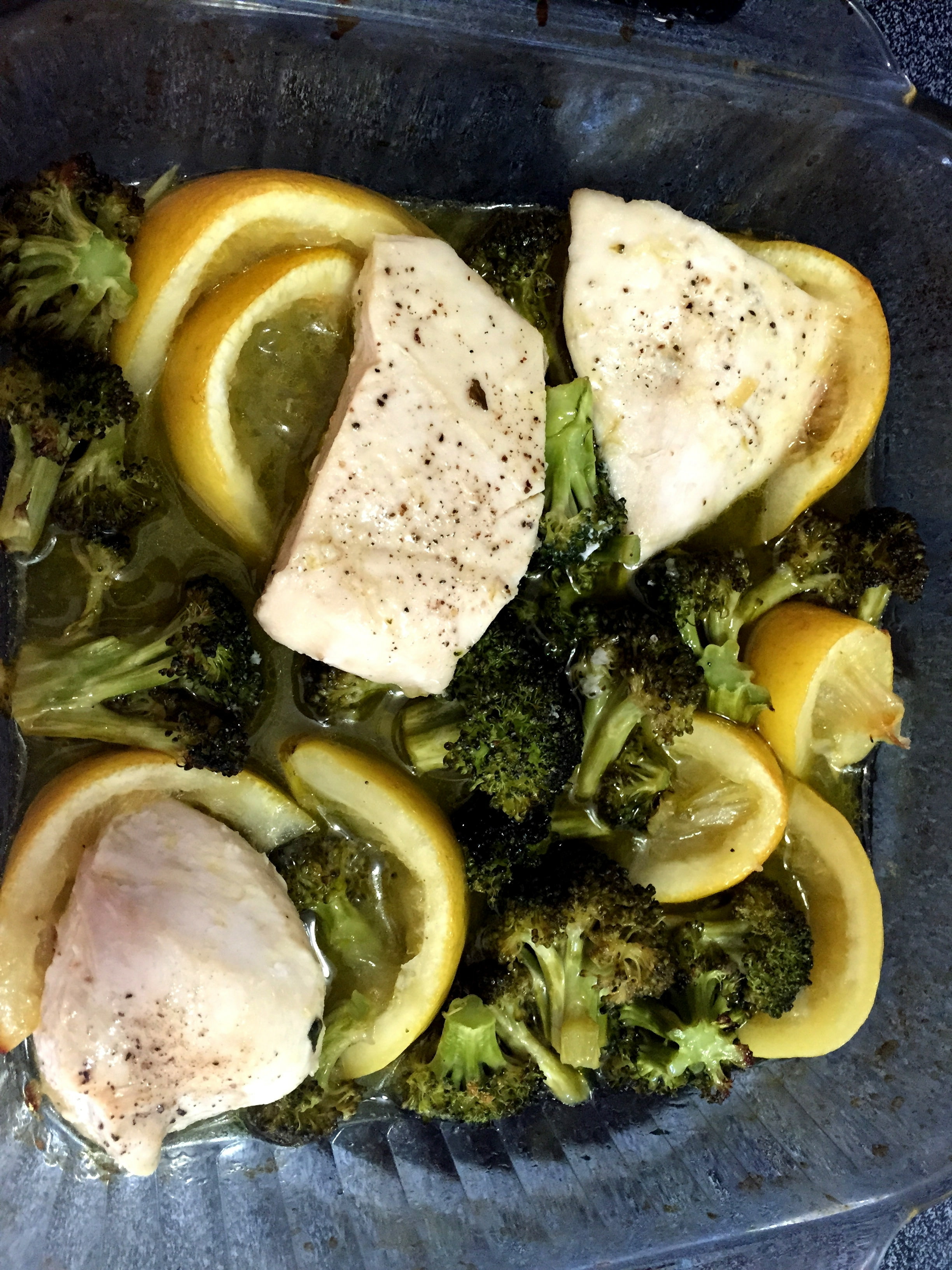 Lemon Peel Chicken
Ingredients:
Organic Chicken Breast
Fresh Lemons
Broccoli
Olive Oil
Garlic Chives
Directions:
I apologize in advance because I rarely measure anything when cooking (hence why I'm terrible at baking) so I just do everything to taste, and it always turns out pretty good—so just go with it! Depending on how many people you need to feed, use a square glass baking dish or a 9×13 glass baking dish. On the bottom of the dish squeeze in the juice (don't even think about using the lemon juice from a bottle) of a few fresh lemons (the more the better), and whisk in about ½ cup olive oil. Keep whisking until the sauce gets nice and thick. It seems like a lot of olive oil but it really does help to keep the chicken and broccoli flavorful and moist (has someone come up with another word to use instead of moist yet?). Nestle the seasoned (salt and pepper both sides) chicken in the dish and pile the broccoli and lemon peels around it. Bake in a 400 degree oven for 25-30 minutes until the chicken is cooked through. Top with finely chopped garlic chives. Once the chicken and broccoli are plated, drizzle a little sauce from the bottom of the dish on top of them and top with finely chopped garlic chives.
Side note: Garlic chives are a very powerful little herb so don't go crazy with them—maybe serve them on the side, especially if serving to kids.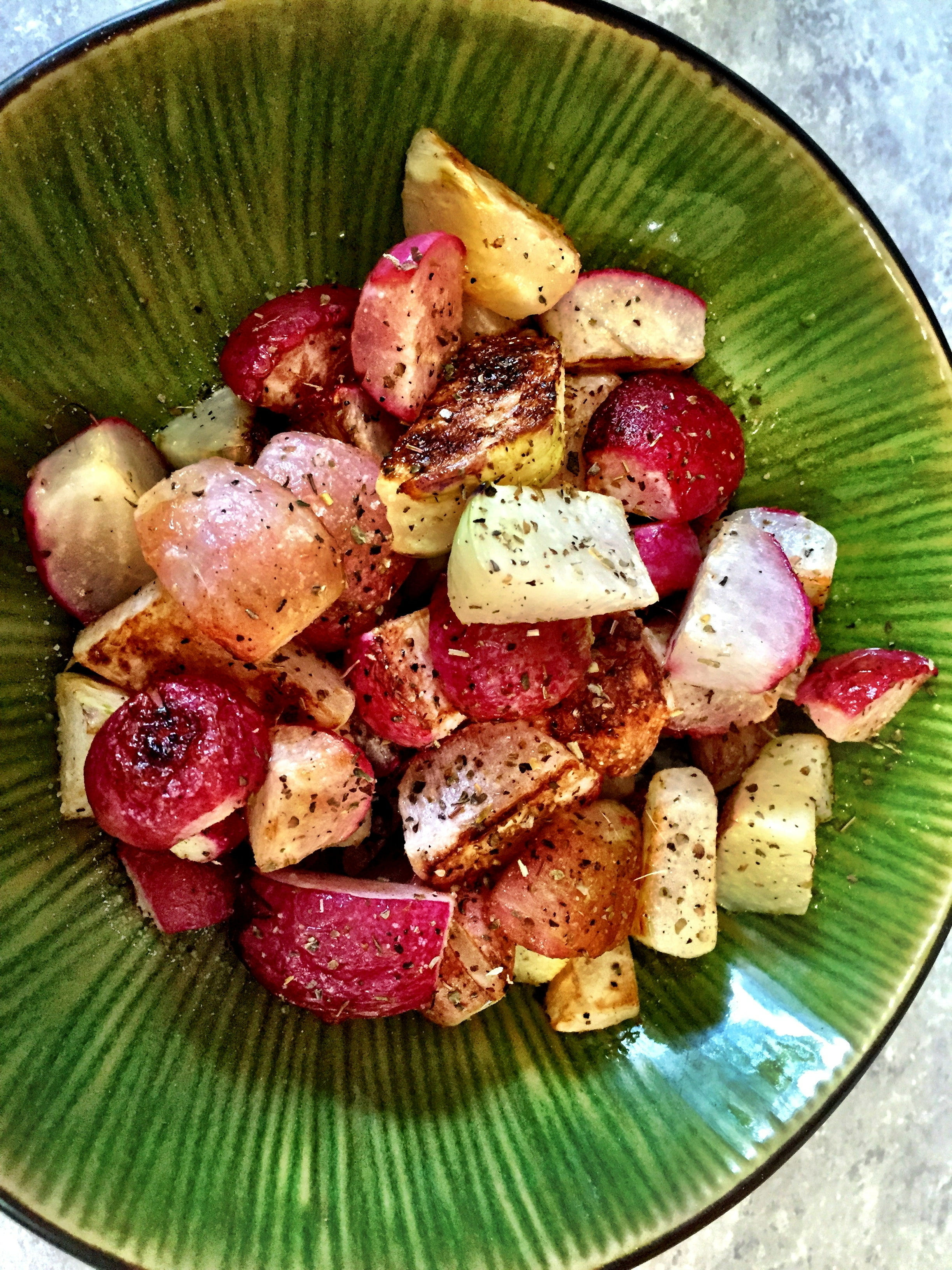 Roasted Vegetables
Ingredients:
Kohlrabi
Radishes
Olive oil
Italian Seasoning
Directions:
Take the greens and stems off the kohlrabi, as well as the hard outer layer, and chop into chunks. Go ahead and toss the hard outer layer but keep the stems and greens for salad. Cut up the radishes and toss both veggies in a little olive oil, salt and pepper and Italian seasoning. Spread them out in an even layer on a baking dish and pop them in the 400 degree oven with the chicken for 20 minutes until the edges of the veggies are golden brown. About halfway through cooking, toss the veggies around on the baking sheet to get all sides evenly cooked.
Side note: When roasting vegetables, always cut the veggies into the same size to ensure even cooking.
I used the leftover lemon peel chicken in a salad for lunch the next day. Baby kale, kohlrabi greens and stems, cherry tomatoes, chicken, shallots, cucumber and my homemade balsamic/honey vinaigrette—Boom!
Balsamic/Honey Vinaigrette
A few heavy dashes of balsamic vinegar in the bottom of a bowl, toss in a little chopped shallot, a little chopped garlic, a teaspoon of raw honey. Whisk in a couple tablespoons of good olive oil and salt and pepper and it's ready—I dare you to try not to lick the inside of the bowl.…
What are your favorite summertime vegetables?
Previously posted CSA Summer Recipes:
Sharing the Local Produce Love with a CSA Summer Recipe