The Battle of the ReTweets
If you haven't been swept up in the Twitter Twend, at this point it's only a matter of time before you're writing in 140 character snippets and retweeting information all over your various profiles. Maybe even dabbling in the "oh-so-fun" Twitter vocabulary. And the more you start to tweet, the more you'll most likely start retweeting.  Not sure how or what retweeting is? Let me enlighten you.  Retweeting, according to Twitter.com is:
"RT is short for retweet, and indicates a re-posting of someone else's tweet.  This isn't an official Twitter command or feature, but people add RT somewhere in a tweet to indicate that part of their tweet includes something they're re-posting from another person's tweet, sometimes with a comment of their own."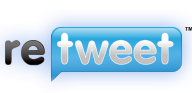 As retweeting has grown, so has the ease and ability to retweet with simply the click of a button with a program like Tweetmeme. This popular service tracks the most popular stories and provides popular retweet buttons for simple retweetability.  However, as with most popular programs a competitor is bound to rear its head at some point; cue ReTweet.com.
ReTweet.com is a direct competitor of Tweetmeme, and from the recent buzz, not a very friendly one either.  Today ReTweet.com launched, not only with a direct competitive attack on Tweetmeme, but also with a pretty nice incentive for switching from Tweetmeme to ReTweet.com – $10,000.
That's right kids, ReTweet.com will be handing over 10,000 smackers to one lucky blogger if ReTweet.com hits 1 million visitors within the first 30 days.  Now that's something to Retweet!
ReTweet.com claims that it is here to "leverage this modern way of announcing and discovering news" and prides itself in providing "news for the people, by the people," meaning that the service doesn't necessarily determine what news makes it to its home page.
ReTweet.com has a lot of the features that Tweetmeme does, including the ability to scan updates on Twitter.com and return popular trends and results, along with easy instructions on implementing their retweet button. They also have big goals, hoping that with retweet right in the domain and their marketing campaign that they will be able to become the official retweet button.
However, is $10,000 and the retweet name going to convince people to switch away from Tweetmeme, a program that has built up a pretty substantial user base not to mention credibility?
What do you think? Will you be retweeting with ReTweet.com hoping to cash in on their new platform, or will you stay loyal to Tweetmeme?
Whatever decision you go with, one thing is for sure: the world of retweeting just got a whole lot more competitive!