The Best of Inbound 2018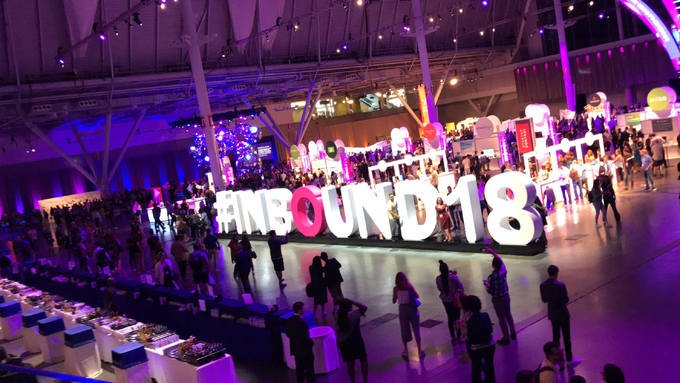 Last week at the Boston Convention Center, 24,000 marketers, salespeople and other creative minds converged for Inbound 2018, the digital marketing conference put on by HubSpot.
The four full days packed with actionable breakout sessions, inspiring keynotes, and networking parties unlike anything you've seen, was a one-of-a-kind experience.
There was so much content that I can't possibly cover it all here; but what I did want to do is tell you about my three favorite sessions and to give you some valuable information along with a sense of what you missed.
Who knows, maybe it will encourage you to attend Inbound 2019 next year!
My Three Favorite Inbound 2018 Sessions
Get More Bang for Your Content Buck: Utilizing Historical Content Optimizations, by Bridget Deutz
The conference included special sessions for HubSpot Partner agencies (like Oneupweb) on what they call Partner Day. On this day, the session presented by Bridget Deutz on optimizing old content to rank better was the most exciting. Why? Because I'm sitting on a ton of "old" (already published) content, ripe for optimization. Anyone who has been in the content game for a while knows just what I'm talking about.
Bridget's session covered the process of taking old content and making it new again. As content creators, we spend so much time looking at what new content we need to be creating that we often forget about the wealth of knowledge we're sitting on that could be improved upon.
In the session, Bridget suggested that you should consider optimizing your old content if any of the following apply to your situation:
You're churning out new content, but the views come from older blog posts.
Traffic and leads are coming from blog posts published 6+ months ago.
You're depending only on content creation and not paid traffic to grow your website/blog traffic.
You have a lot of previously published content, and a lot of competition on those topics.
Bridget and her team created a process to give new life to old content they call ROPS™, which stands for Rework, Optimize, Publish and Share. To select pieces of content to send through this process, they look for the following four things:
Posts with high views or high conversion rates
Posts with first-page ranking (present or potential)
Posts with high keyword search volume
Posts with little-to-no outdated or misguided information
They tested the ROPS™ process with clients willing to take the risk (P.S. clients like that are the best!) and saw amazing results. One client saw a 40 percent increase in blog views in just one month. Now, two years later, they are looking at a 432 percent increase since they started using ROPS™.
These are the kind of actionable tips that I look for at a conference, and I look forward to implementing them on the Oneupweb blog.
Google Snippets and SEO: How a Tiny Piece of Content is Radicalizing the SEO Game, by Adam Piotrowski
Adam Piotrowski gave a great presentation on "the featured snippet," one of the hottest things in the SEO world right now. Also referred to (by SEO insiders) as "position zero," the featured snippet is the prime organic real estate on Google for the 12.2 percent of search Google queries that show a featured snippet.
It used to be that the lone goal for SEO pros was to get content ranked inside the SERP's first 10 blue links. We all know that no one goes to page two of Google, it's why it's still the best place to hide a dead body (sorry, a little SEO humor there).
However, these days the blue links are joined by knowledge graphs, reviews, Tweets, "local packs" and more that are taking over real estate where the top organic search results used to be. All in all, there are 18 SERP features that are stealing clicks away from traditional organic results.
So, now that you see why the snippet is desirable real estate, I want to share some of Adam's tips for getting featured snippets for your business:
You need to rank high. To score a featured snippet you must have content that already ranks in the top 10 traditional organic blue links. But since 94 percent of the featured snippet results come from the top five, aim high.
Start by identifying and optimizing any current snippets your company has, then see what snippets from other sources related to your business that you can target. Use a tool like SEMrush or Ahrefs to see if and where you already rank for a snippet. Then find more opportunities by using the "People also ask" feature within Google. For example, if you rank for "How do I cook chicken?" you will see people also ask, "How can I cook chicken breast" and "How do you know if chicken is done cooking?" What content do you have that answers those related questions? When you identify it, optimize it or add additional content to improve your chances it captures snippets for these searches as well.
Create kick-ass content. This one is the no-brainer. The better the quality of your content, the more likely it is to rank in the top five results in Google. Make sure that once you update or publish new content aimed at getting a featured snippet that you submit it to Google Search Console for indexing.
Secrets of Search Dominance Revealed, by Maryna Hradovich of SEMrush
Although most of what Maryna Hradovich of SEMrush presented in this session were things we're already focusing on as an agency (such as mobile-first indexing and AMP), it was great to get further insights into the topics as well as validation, so to speak, by a major player in the SEO field that we're absolutely at the top of our digital marketing game.
Maryna focused on three key areas to dominate search:
Mobile-first indexing
Speed
AI and machine learning
Here at Oneupweb, we're no stranger to the mobile-first indexing push by Google. Check out our Monday Marketing Minute on Mobile-first indexing.
On the topic of speed, a stat that Maryna brought up that caught my attention was how much a single second can affect a company's bottom line. Take Amazon for example:
A 0.1-second difference in load time dropped their sales by 1.0 percent. If that doesn't sound like much, that 1 percent represents $1.3 billion in missed sales!
Conversely, Walmart decreased their page load time by one second and increased conversions by 2 percent. That one second faster load time was worth $274 million per year to Walmart.
Maryana also talked about AI and machine learning playing a much bigger role in search. One example is the previously mentioned featured snippet. This snippet of content is what powers Google speakers and assistants. So, if you can position your content for this SERP feature, AI-driven Alexa and smartphone voice apps will be citing your content to search users.
With 1 in 5 U.S. adults having a smart speaker, this is strategy you should definitely start thinking about now.
See you at Inbound 2019?
As always, Inbound was a huge hit, and I learned more than my brain could process. I highly recommend you look into attending Inbound 2019 if you're part of the marketing team at your company or organization.
Another great conference closer to home (if you're based in Michigan, like us) is Digital Summit, which Oneupweb spoke at in Detroit this week.
If you have questions about anything from Inbound 2018, or just want to talk digital marketing, reach out to us!
---