The Idiot Box – Redux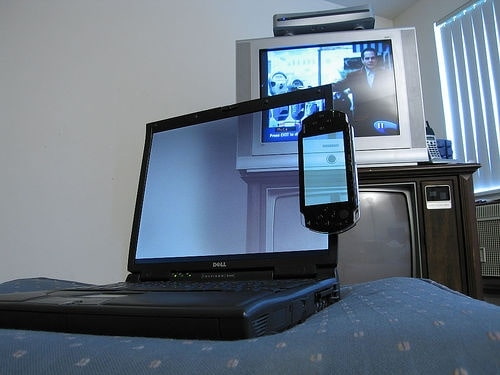 When my 10+ year old DVD player started showing its age, I realized that it was time to take the final walk and put it down—just like Old Yeller. In its place now sits a beautiful, smartly equipped Wi-Fi internet-enabled Blu-ray player (a gift from Santa). Just a few seconds after plugging it in, I was greeted by four company logos on the home screen, each with a corresponding color-coded button on the remote control.
The first two companies, Netflix and Blockbuster, are familiar names. And the available video streaming download potential they offer is exciting. These two companies primarily work on a subscription-based model for their main source of revenue, passing the service fees onto the consumer.
The other two companies that appear on the Blu-ray's home screen are Pandora and YouTube, whose services have been traditionally free to the user—as they primarily function on the income derived from the advertising on their sites. And now that these ads are also making their way directly to people's TV screens via internet-enabled products (like my Blu-ray player), there lies a virtually untapped new source for business ads to appear—offering viewers a whole new time and place to soak in the products and services that they can't live without.
Through the use of widgets and other simplified connectivity features, many internet-enabled devices also come in the form of TVs, gaming systems, mobile phones and e-book readers, as well as a slew of new products from companies like Roku and Boxee. These niche products and the enhancements to existing consumer devices are establishing a whole new way for users to access internet features and stay connected, without the need for a PC.
A study by IMS Research stated that "by 2015, more than 473 million homes will have these internet-connected devices. However, the biggest growth will initially be in the Blu-ray sector, where the players are estimated to hit 28 million units in 2011."
A company that is really extending their advertising reach across these new mediums is NBC Universal. To promote their new movie, The Wolfman, NBC placed audio ads on Pandora, created a Boxee Wolfman application and started running banner ads on mobile phones. Their efforts display a targeted approach across the three screens to reach consumers on their PCs, TVs and mobile phones. It's hard to escape The Wolfman.
I like what Harry Gold had to say about the subject in a recent ClickZ Article on January 19, 2010:
"In conclusion, the way to think about interactive TV is this: anything you can do on a Web site you will be able to do with interactive TV. Ads will become much more action oriented to encourage viewer/user behavior and shows will have new revenue opportunities with product placement and embedded calls to action (really saving them). Finally, tracking will be extended to television in a whole new way and will really raise the bar on marketing and advertising performance and accountability. So, what is the good news for online professionals? Online marketers already work under this kind of atmosphere!"
If some of these new developments have you thinking about the potential display advertising can have for your business, let Oneupweb help you spice up your online media campaigns within with our display advertising services. We can help you bring your products and services to your audience, wherever they may be. Whether they're searching for that YouTube video sensation or listening to their custom-made Pandora station on a new internet-enabled TV, PC or mobile phone, why not put your ad right in front of them?