The New PPC: Paid Advertising in Social Media
If you have been following the trends in SEM (Search Engine Marketing) over the last year or so, you are probably well aware that social media marketing is the often hyped,  latest digital marketing channel to gain buzz.  While most marketers would agree that the full potential of social media marketing has not yet been reached, possibilities do exist to engage the consumer at a very intimate level.  The goal is to participate in the conversations that are continuously taking place on social networking and micro-blogging sites like Twitter and Facebook in order to gain positive exposure for your brand, product, or service—without coming across like an annoying sales pitch.
What role does paid advertising have in social media marketing?
Social media marketing, combined with keyword-level targeted paid advertising campaigns, can dramatically improve the results of a social engagement or community-building campaign.  Because of the relative newness of social media channels, best practices are in a refinement stage and potential marketing opportunities are beginning to come to the surface.
What not to do—spam.  While advertising will have a role in social media marketing, users will be more skeptical of a sales pitch, so be careful to bring value to your social engagement campaigns through advertising, and avoid spamming at all costs. Nothing can destroy a brand's equity faster than a user being annoyed by your advertising presence.
Here are a couple of ways start advertising in social media channels:
Facebook Advertising
Advertising on the biggest social networking site in existence is full with possibilities that are not available in traditional paid search.  There are several ways to place ads on Facebook: search ads (powered by Bing), social media ads, and display ads (purchased through Microsoft).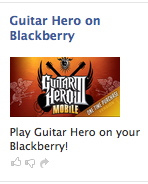 Let's focus on social media ads.  The key here is the ability to really focus-in on your target audience.  Social media ads on Facebook are displayed to the right of the page content and feature a title, small picture, and body text, like the one shown to the right.
The real power of Facebook Advertising is in the targeting options.  You can target your advertisement by: keyword, workplace, age, sex, relationship status, geography, education level, languages, connections (groups, pages, events, or applications), and more.  The high level of targeting options available allows for mass marketers and niche marketers alike to reach their target audience.
Another powerful feature, and one that helps to integrate with a social engagement campaign, is the "Become a Fan" link on the bottom of an ad.  The only requirement is that you must have a Facebook Page (pages are reserved for celebrities, businesses, or organizations) and when you create an ad, the link must go to your Facebook Page.  This is particularly important in the early stages of a social campaign as you try to first establish a sizable fan base.
TwitterHawk
Twitter has experienced phenomenal growth over the last year and continues to be tantalizing for digital marketers.  Before I summarize TwitterHawk, let me reiterate one thing—DO NOT SPAM.  Users will not be receptive to your message if they feel like they are being hit over the head with it.
TwitterHawk describes itself as "a real time targeted marketing engine that will find people talking on Twitter now by your chosen topic and location, allowing you to really hit your target mid conversation with ease."   This means that you simply enter in your targeted keywords and then TwitterHawk searches Twitter and finds tweets containing your keywords. You are able to reply back to those users with a relevant message (tweet).  TwitterHawk also allows for geo-targeting, which is a plus for regional or local advertisers.
To avoid the feel of spam, TwitterHawk limits the amount of tweets you can send out to 1 per hour.  You can also create up to 5 different draft responses and personalize the response before it is sent.  TwitterHawk operates on a cost-per-click model and their site claims an average of $0.02 actual CPC.
Conclusion
Like any well crafted digital marketing campaign, make sure you have defined achievable goals (i.e., 1,000 Facebook fans).  For integration with a social media campaign, your advertising should fit with the user's expectations when on a social networking site and should not be too "salesy".  The idea here is to endear your target audience to your brand, product, or service so you are better able to build a long-term and lasting relationship.  Social media marketing is a tremendously powerful way to build or introduce a brand; done tactfully, advertising in these channels can provide benefits that should not be overlooked.