The Power of Customer Match 
Reach Your Most Engaged Customers with Customer Match Data
For those of you reading this and are asking yourself "what is Customer Match?" let me catch you up to speed. Back in 2015, Google introduced Customer Match, which is an advertising feature that lets you show ads to your customers, based on data about those customers that you share with Google. Customer Match only works through search, YouTube and Gmail, but is not available through the display network at this time.
How it works:
Advertisers should hash their email lists prior to upload, although this is not a requirement, to ensure your data is secure. Most advertisers use the SHA256 algorithm, which is the industry standard for hashing data.
Upload the data file using Google AdWords or the AdWords API. Google uses SSL for the upload, which is also the industry standard for file transfers.
Google then takes this data file and compares it to information from Google accounts. If there is a match, they add the corresponding account to the CM audience. Once uploaded, the matching process can take up to 24 hours before it's ready for use.
The data file is then marked for deletion once policy compliance is met.
Start creating campaigns.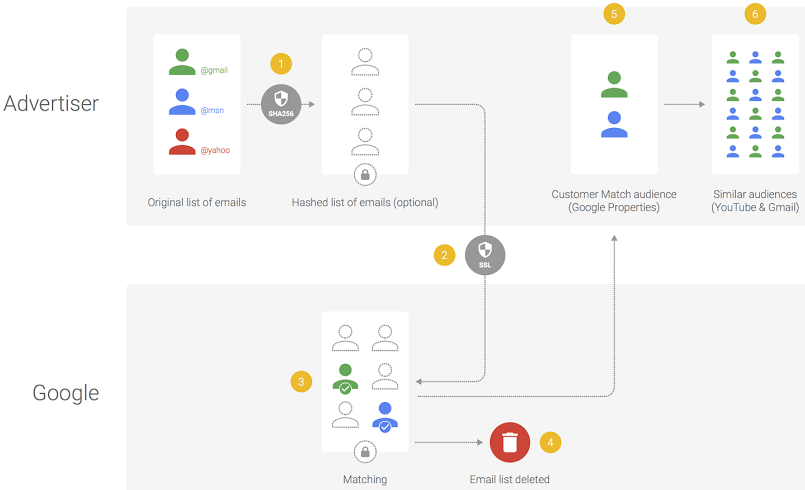 Campaign Setup
First, you'll need to upload your data file through AdWords UI or API. Next, create or update your existing campaign that you'd like to target with your Customer Match audience. These users are eligible to see your tailored ad creative as they navigate Google Search, YouTube or Gmail.
Potential Strategies
Promotions
o Brands often use promotions to drive sales or liquidate inventory, typically done through traditional marketing channels, and this now give advertisers the opportunity to reach customers through a new medium.
Create Similar Audiences
o Google will automatically create a Similar Audience list, using their database of millions of Google accounts. These re-marketing lists are created based on similar demographic and interest categories of your audience. Similar audience lists are perfect for expanding your reach to users that may not be familiar with your brand
Optimized Bidding Strategies
o You have a lot of information on your customers, which allows you to optimize your bidding strategies for these audiences. Increase bids if you'd like to reach customers who have viewed a whitepaper, but haven't signed up for your service.
Tailored Ad Creative
o This strategy is great when you'd like to move customers from one phase of the purchase funnel to another. Send one customer list a promotion for FS on their next purchase, while another customer list gets 20% off to renew their annual subscription.
Conclusion
Benefits of the AdWords Customer Match feature are endless – you can use existing email lists to target customers with promotions, you have the ability to tailor ad copy to reach your audience during different phases of the buying cycle, optimize bidding strategies or create similar audience lists to reach new customers.