The Importance of SEO in Social Media for Your Brand
Social media is a crucial element in order to dominate the real estate on a Search Engine Results Page (SERP). Owning the space relative to your brand on a SERP leaves your company in control of your message. Instead of having competitors or the unfortunate bad review listed on the SERP, your social media networks are there instead.
Note, if you do have negative press/comments in a social media network, it's best to respond to those negative comments in the same network. For example, if someone on Twitter complains about an experience they had with your company's customer service, it would be best to respond to that user directly on Twitter. Also, never attack someone who has negatively commented about your company, this will most certainly backfire. Instead, use the opportunity to let that person know what you are going to do to rectify the situation. Being honest and open about the issue will let people know you are working on the issue. What's cool about social media is that transparency, or being honest and open about your company, will get you a lot more R-E-S-P-E-C-T, thanks Aretha.
Ok, back to the issue at hand. Let's take a look at Oneupweb's SERP when searching for, you guessed it "oneupweb."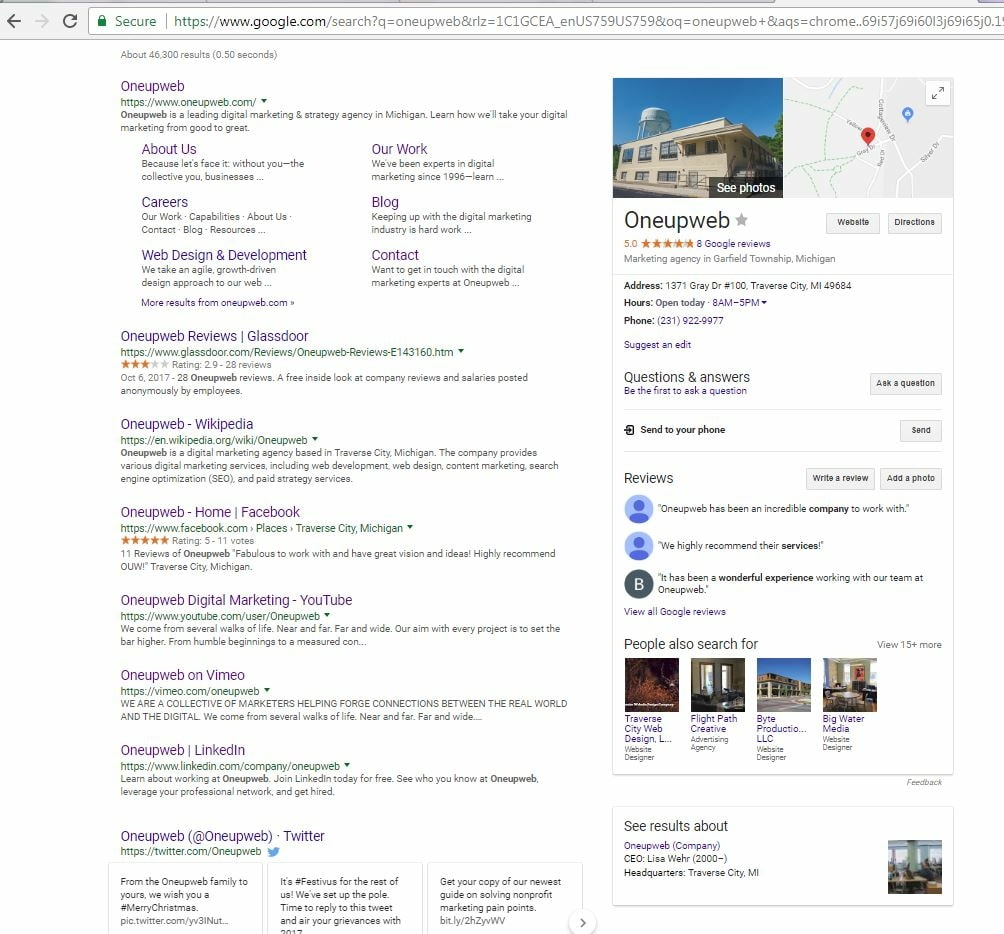 Notice from the image that almost every listing is either our website, or some sort of social media network we control: local business listings, Twitter, Vimeo, YouTube, Facebook, LinkedIn and our podcasts. Oneupweb completely dominates the SERP for our branded keywords — and your company should be doing the same.
What is your company doing in social media? The biggest hurdle a lot of companies have is the lack of actual human resources to take the time to spend within these social networks. Uploading photos/videos, tweeting, and changing status updates all take time. This is certainly an understandable hurdle, but one that you can certainly clear when having (shameless plug coming up) an understanding social media agency, like Oneupweb, help you along the way.