The Rise of the Three Wolf Moon T-Shirt
Search and social media can have unimaginable results. Just ask Michael McGloin, Creative Director of New Hampshire based t-shirt manufacturer, The Mountain.
"I feel this will be in the history books of marketing, people will be trying to duplicate it. It's just out of control."
What was he talking about? Well, six months ago, Brian Govern, a Rutgers University student, penned a comical review on Amazon of the now famous Three Wolf Moon T-shirt.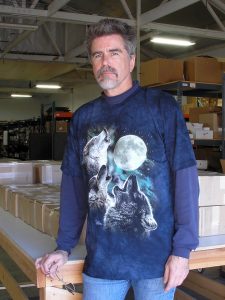 Inadvertently, Brian's comment launched the t-shirt into a viral sensation, practically giving the t-shirt a life of its own. His posting caught the eye of the editors at collegehumor.com, whose readers began a barrage of their own amusing reviews and claims of the shirt's powers. The number of reviews now sits at 837.
Here are two of my favorites:
You don't put this shirt on your torso, you put it on your soul.
Unfortunately, I already had this exact picture tattooed on my chest, but this shirt is very useful in colder weather.
Even the manufacturer has jumped in, posting an account of how the shirts are delivered to them after being saddled to the backs of Pegacorns(unicorn-Pegasus hybrids), hand-dyed by monks, dragged through the ocean by eagles and dropped back in New Hampshire.
These spontaneous bursts of creative reviews are now common enough that online reviews have developed into a literary genre with Twitter, Facebook, and YouTube serving as your distribution networks.
Since the viral thread took off earlier this month, sales have spiked. The shirt is currently selling at a rate of more than 100 an hour, and it's the No. 1 seller in Amazon's apparel line. There are currently nine Facebook pages dedicated to the shirt, a YouTube parody, hundreds of Tweets, content all over Digg and Squidoo, coverage in the New York Times, Los Angeles Times and a recently aired segment on ABC World News.
Search has changed and with that, marketing has changed. Build your online presence and listen to your customers as they "tweet," comment or share blogs, and develop satirical product reviews on Amazon. If you're looking for direction, you'll find the guiding beacon at Oneupweb.