Time to Get Your App In Gear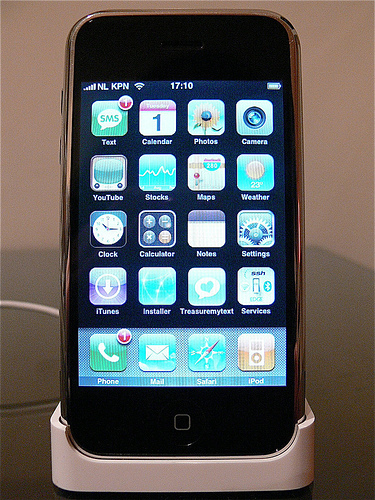 Apple released the iPhone in the summer of 2007. In April of 2009, they had more than 6.4 million active iPhone users in the US, and just last quarter, they sold 7.4 million more. In an October press release, Apple cited over 50 million iPhone and iPod touch customers with more than 85,000 third party apps available in their store. There have been 2 billion downloads from the app store in the last year, with half a billion of those in the last quarter.
You may be thinking, so what? So Apple is good at selling things. But it isn't about Apple, Blackberry or Palm. It isn't about the leader. Apple's explosive growth in this market is a sign of something else. Mobile computing is becoming readily embraced by the masses. It isn't just for the suits anymore. There are over 100,000 developers writing software for the iPhone right now, and the phone has only been out since mid 2007!
I've written software for quite a while on a variety of platforms. First mainframe computers (measured in square feet), then the PC and the web. Guess what? When I first started programming, my boss told me that PC computers would never replace mainframe computers. It was unthinkable. They were considered "toys". I was writing web apps when most businesses thought the Internet was a "toy". Why would I need a website and email address? <insert blank look here>.
The web is clogged with tutorials by thirteen year old whiz kids showing the masses how to create iPhone apps. If there is a better bellwether than that, I'm stumped. It's the 70's & 80's all over again. The mobile device is what the PC was back when we all watched War Games (link provided for the youngsters). Businesses look at a sea of seemingly pointless fart, dating, drinking-game and other assorted novelty apps, and some have been lured into labeling the mobile platform as a toy. It's great for shopping lists, reminders, maybe even email—but what else?
How about a portable scanner, bar code reader, voice to text converter, invoicing system, credit card terminal, time tracker, remote control, remote desktop, book reader or a turn-by-turn GPS navigator? These aren't concept apps. They are in the Apple app store right now. An iPhone can do all that and act as a carpenter's level. Mobile devices are getting more powerful and more widely accepted every minute.
Still don't see how all of this relates to you and your business? Think about two billion downloads. Is your product represented on this platform? Did any of those multi-billion searches lead a customer to your door?
Don't blink. The money follows the masses. Pay attention, or pretty soon your sweet little old grandmother (bless her soul) will be raking in the bucks with her new VCR-Programming iPhone App, your kids will be sending their homework in via the latest text message protocol and you will be tethered to a desk somewhere wondering where your customers are.
And if you need help, you can always contact Oneupweb.