Tutorial: Transferring Google AdWords Campaigns to Yahoo!
Most likely you've come to this post in search of help on importing Google AdWords campaigns into Yahoo! Search Marketing. You may have heard that Yahoo! just released a desktop tool like AdWords Editor & adCenter Desktop to do just that. Since this Yahoo! application is in early beta testing and requires an invite, it will not be an option for most search marketers. The good news is that if you're familiar with AdWords Editor, Microsoft Excel, and Yahoo!'s Campaign Conversion tool, you won't need the beta app—at least for campaign creation.
You may or may not know that some of the features available in Google AdWords are not supported in Yahoo!. This tutorial will show you a quick and simple way to remove those items and prevent import errors before they happen. I will layout easy to follow steps that should hopefully save you time. But first, here is a quick overview of how I suspect this process happens for most:
Open AdWords Editor
Select and copy the campaign
Paste the campaign into a spreadsheet
Update bids, tracking, budgets, etc.
Save spreadsheet
Convert campaign using Yahoo!'s campaign conversion tool
Import the converted campaign
This process will get the job done, but it can be done much easier and much quicker. Here's how:
Step 1 – Post All Unposted Changes in Editor

This is important because later on in the tutorial we will need to revert all our changes. If all changes are not posted beforehand YOU WILL LOSE THEM ALL.
Step 2 – Choose a Campaign
Focus in on the campaign(s) you wish to migrate to Yahoo!.
Step 3 – Update Campaign/Ad Group/Keyword Settings in Editor
Rather than copying the campaign to Excel and making changes, make all your updates right in Editor using the built-in tools. Of course, you'll need to update budget, tracking and bids. Once settings are up-to-date, remove negative keywords, placements, image/mobile/local business ads. Not doing so is one of the most commonly made mistakes. If any of the above are not removed, our campaign conversion will fail at a later step.
Step 4 – Copy Campaign Into Excel
Now that your campaign has been prepared for Yahoo!, we can begin the migration process. Select the campaign of choice, right click, then click on "Copy". Now paste this into an Excel document.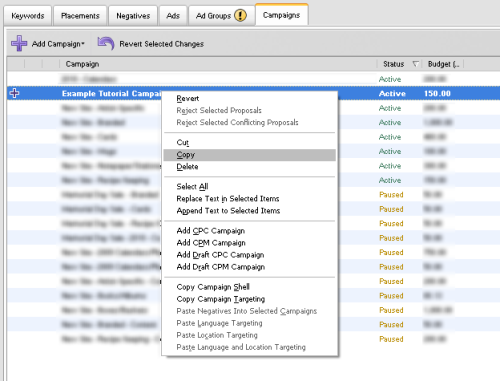 At this point you'll see that all the updates made in Editor have been pasted with the new campaign. All changes made before the copy will be reflected in the pasted spreadsheet. This saves you a ton of time so you don't have to search through Excel line-by-line deleting negative keywords, updating bids, etc. I encourage you to do a quick review to make sure all the settings meet your expectations.
Step 5 – Save As Unicode Text
Yahoo! requires the document to be saved as Unicode text with a '.csv' extension.

If this isn't saved in this format, we will not be able to import the campaign.
Step 6 – Convert Google Format to Yahoo! Format
This step is self explanatory. Find the 'Import' link in your Yahoo! account.

Choose the 'Convert Third Party Campaigns' tab.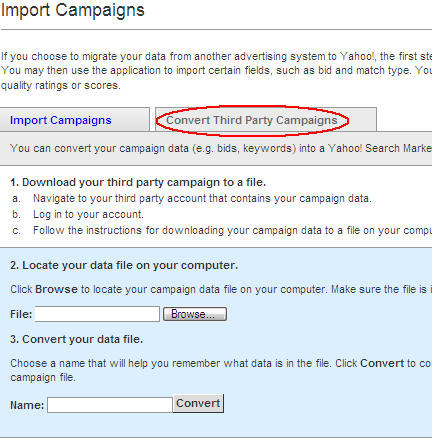 Browse for the '.csv' file you just saved, name the import, then click 'Convert'.
If you followed all the steps above, the file will convert successfully and you'll be presented with a file to download under the 'Converted Campaign File' column.

If there are errors, you'll see the download link under the 'Comments' column. At this point you'll want to review your steps to make sure you didn't skip something.
Step 7 – Import the Converted File
Download the converted campaign file. Save it again as Unicode text with a '.csv' extension. Click over to the 'Import Campaigns' tab. Browse for the newly saved converted file, name the import, and click 'Upload'.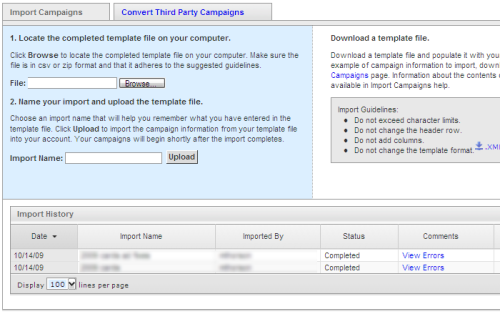 At this point you'll most likely see 'View Errors' listed under the 'Comments' column. This is likely nothing to worry about. There are several errors that could appear, for example, Yahoo! will not let you import duplicate keywords. Yahoo! sees plural and singular keyword variations as being duplicate, and this just happens to be the most common error at this stage. Download the file to review the errors. This will be a list of keywords/ads that Yahoo! did not import because there was an error. The last column of the spreadsheet will give details on why there was an error for each element. Again, duplicate keyword errors are normal and no action is required.
Step 8 – Spot Check Your New Yahoo! Campaign
This should have imported correctly. It's always a good idea to spot check the actual campaign to make sure the import meets your expectations.
Step 9 – The Last Step
Now that you have your new Yahoo! campaign in working order, go back to AdWords Editor and revert all the changes you made for the Yahoo! campaign.

As I mentioned in step 1, if you didn't post all your changes before starting this process, you won't have the ability to revert all your changes in bulk at the end.
I hope this tutorial makes campaign migration much easier until the Yahoo! Desktop finishes beta testing.
Enjoy.