Tweets in Bing Search Results: Good News?
Today,  Microsoft announced that it is "fully integrating posts from Twitter into the search results of Bing." In addition to this, they are also planning on integrating Facebook status updates into Bing results. A beta version has since launched.
The big question: Is this really a good idea? My answer: Sure, as long as we're seeing valuable results.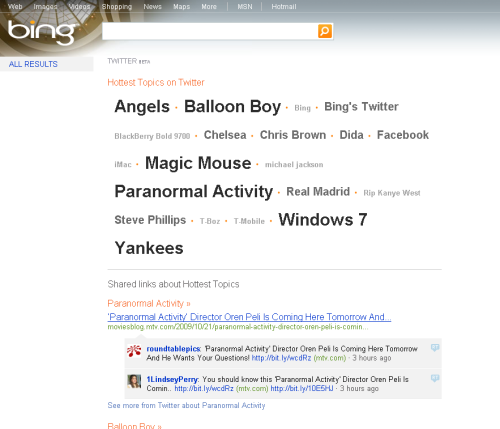 At this time the beta version is entirely separate from normal natural search results; similar to if you select the option to search for only images or videos. There's a tag cloud and lists of hot topics with popular tweets. Digging deeper into the 'See more Tweets" option, we are presented with a laundry list of results for whatever topic you are searching for, which Bing states are ranked by the number of followers the tweeter has.
This setup seems okay for the time being. It gives those using these popular social media tools the chance to get their messages out to even more people, which is great. But what if, as I suspect, these Twitter and status updates are integrated as a regular part of the natural SERPs?
In the interest of natural results, will searchers really be served up the most relevant/informative tweets to their search query? Does the number of followers actually dictate the value of the tweet? Maybe most of the time, but I would bet not always. So will searchers actually see tweets that will improve their search experience if this new feature is indeed made a part of Bing's normal SERP?
I'm not saying all this because I'm trying to prevent Twitter and Facebook updates from appearing in Bing's SERPs. Contrary to what all the tabloids say, I don't have that kind of power.  What I'm talking about is maintaining the purpose of search, that is, presenting users with results that are relevant for their search topic. Sure, seeing tweets from a business notifying me about their sweet deals or finding other people's 140 character reviews of those businesses will certainly influence my decision making process. Why? Because it's helpful. What I don't need is to perform a search for 'auto repair services' and be returned "Any1 know of good auto repair in Detroit? My car is busted dude!" That is not helpful.
I would hope, and am sure, that the Bingster has taken more than the number of followers into account when assigning relevance for the tweets being displayed. Because I do see promise in this newest venture into the realm of real-time search. I just hope to see it done correctly and in a way that will benefit us all.