Twitter Lists: Are They All They're Cracked Up To Be?
Everyone seems to be pretty pumped about Twitter's List function.
Lists make Twitter more user-friendly by allowing users to better organize the people that they follow. It also cleans up the home feed so that it isn't one big constant mess of tweets that you can never seem to keep up with.
But what other benefits are there? Sure, you can follow other people's lists; like I follow Mashable.com's Social Media list, but here's the kicker, I'm not actually following the users within that list, just the list. Do I really need to take that extra step and follow the users within that list when it's already organized for me? Which could potentially mean those within that list lose out on a new follower?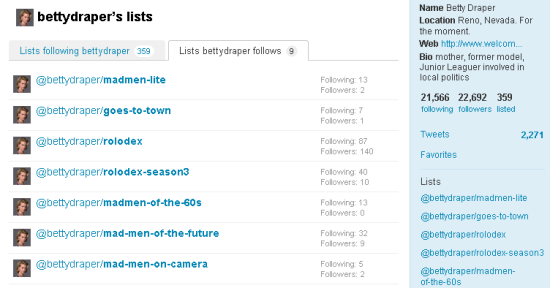 I personally like lists for the organizationally factor, however, it seems as if you could lose that one-on-one engagement factor with other Twitter users if people just follow lists and not the people within lists.
Below are two things that make lists beneficial besides the organizational factor:
Lists help users discover new people. Mashable's list of social media people introduced me to industry types that I've never heard of before.
Lists establish a type of credibility within industries and the Twitter culture in general. For example, if you are a huge Shaquille O'Neal fan and he makes a list titled "My Heros" the people within that (fictitious) list are obviously people Shaq looks up to, which gives direct credibility to the "hero" within that list.
What do you think? Does the organizational factor of Twitter lists outweigh the potential of losing out on Twitter followers? We'd like to hear your thoughts and ideas.