Twitter: Preparing for Mobile Success
Online marketing is shifting dramatically in 2009. Everyone continues to discuss the powerful and engaging reach of sites like Twitter, Facebook and YouTube, but I'm afraid that too many marketers might be implementing social media plans before their website experience is completely ready. Furthermore, many of those forerunners may also have an incomplete picture of these campaigns' effectiveness.
Today's blog will focus on Twitter. I'll present a sudo checklist that you should consider in the early planning and development stages of your first Twitter campaign.
First, consider how Twitter users access and update their profile. Depending whether or not you've kept up with recent trends, you may be surprised to hear that 80 percent of Twitter updates are made via a desktop or mobile application, whereas 20 percent come from direct interaction using an internet browser. This stat was released by Evan Weaver, Twitter's head engineer at QCon 2009. You may wonder why this matters. Well, the medium in which your Twitter followers use to receive your updates will have an effect on both visit tracking as well as how those users interact with your site.
The two main types of analytics tracking rely on referral data or URL tagging. If you're familiar with reporting used in Google Analytics, by default Google organizes traffic sources by the referral data passed when the user clicks through a link to your site. When one of your Twitter followers clicks through a Twitter link to your site via a mobile or desktop application no referral data is passed, meaning Google Analytics will not report that visitor.
This isn't just Google's problem. Omniture and all the other top analytics packages will have the same results because that data is missing. And since 80 percent of Twitter activity comes from these types of applications, this poses a problem. The remaining 20 percent will be tracked just fine.
The second tracking tactic relies on URL tagging. This method is much more effective when the advertiser has control over the link URL that is used, especially with Twitter. URL tracking is the preferred way to make sure you are getting a clear picture of traffic/sales/leads gained as a result of Twitter marketing campaigns.
Once you have a strategy for tracking Twitter visitors you should consider what goal you want those visitors to reach. Do you want them to purchase something? Or do you want them to fill out a form or download some information? In either case, those using a mobile phone on your site will desire a different experience than someone using their PC.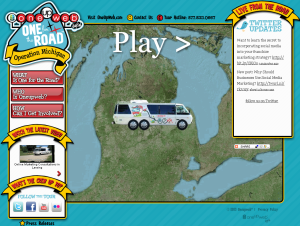 A perfect execution of this (maybe I'm biased) was our recent promotion of our One for the Road tour. Our goal was to raise awareness of the event and engage users via our social profiles. When mobile users clicked through to the One for the Road site from a mobile device they were redirected to the One for the Road Mobile site. If you can browse the internet on your phone I encourage you to look at both URLs and see the differences. You'll immediately see why it's important to treat mobile browsers differently than desktop users.
The site layout is one of the most important differences to consider, but if your goal is form fills or checkouts you also need to consider the following:
Form Fills
How much information do you require?
Is the required information easily accessible in a mobile scenario?
Does your form use data validation on every field?
Checkouts
Is account creation required?
If so, does the user have to validate account/email address used?
How many steps does it take to complete the checkout? Can this number be reduced?
Test and review all of these angles based on your own level of patience and using the available mobile browser testing tools such as DotMobi so that you're sure about the presentation your site is providing.
This isn't a comprehensive guide to being successful with social media marketing via Twitter. However, if you have proper tracking and provide an optimized in-sync user experience to your user, you'll have much of the foundation in place to succeed.