Twitter vs. the NFL in the Social Bowl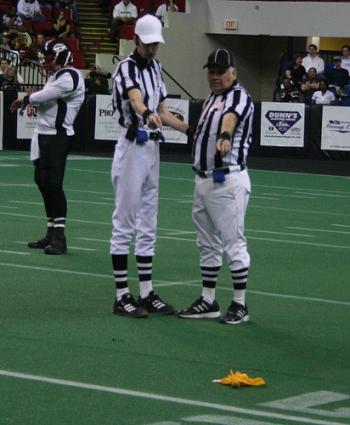 "Real frontier-busting math explores new worlds … If you can communicate that experience, somewhere between math and uncertainty, life experience provides the balance."  –  John Madden
All kinds of groups and organizations, the government, military, churches, and others are scrambling to find ways to harness the social media revolution as it evolves.  All across the board, these organizations are establishing rules for this new social media game by establishing foreseeable limits to alleviate potential problems. Yet many of these same organizations also see the huge potential of this interactive flow of information as well as a whole new way to reach their audience and build their brand.
Many sports organizations do have concerns about the instantaneous information their players or staff can post to different social media channels.  Recently, a $2,500 fine was issued to Antonio Cromartie of the San Diego Chargers for tweeting a complaint about the food at the team's training camp. Meanwhile, the Chargers organization as a whole embraced these same social channels and announced their first round draft pick on Twitter and their website, even before the NFL commissioner announced it in New York.
The NFL is currently developing a comprehensive Twitter policy to regulate how their players and staff use the service. The NFL already has a policy in place prohibiting players and coaches from the use of cell phones or any other form of communications on the game field and locker room. And they now have to include and detail a Twitter clause to eliminate player updates during game time, because the previous policy somehow doesn't quite cover it.
Taking matters into his own hands, Mike McCarthy, coach of the Green Bay Packers, imposed his own team rule detailing a fine of $1,701 on any player who uses Twitter while on the job.
"It's comparable to any other company monitoring what their employees say to make sure they are consistent. It's pretty simple from that aspect, like any other business. You wouldn't expect somebody from IBM to be tweeting from an important meeting. You don't want players to check their PDAs or phones during practice or meetings," NFL spokesperson Brian McCarthy stated to TechNewsWorld.  "We welcome any new technology that enables us to talk directly to our fans, and when done properly, it's a tremendous opportunity to talk to and listen to our fans. It's clearly the golden age for our fans. You do have all the information at your fingertips and through the evolution of media, it continues to fill that insatiable need for football that Americans have."
About a third of NFL teams have also started placing restrictions on the use of social media by the press and fans during their practices. For example, the Miami Dolphins permits their audience to tweet and text all they wish for the first 20 – 25 minutes of their open practice, and then all electronic communications devices must be turned off. NFL teams have always taken precautions to protect their secrets, strategies, injuries, etc. from their audience and their competition. This is especially true since the infamous New England Patriots Spygate case, in which the team and coach were disciplined by the NFL for videotaping the New York Jets' defensive coaches signals during a game.
Noah Shachtman of Wired Magazine said, "It's all about trying to control information flow, right. All these big, old organizations want to figure out what to do with this new tool and how to manage when all their employees can suddenly talk to the world."
"Coaches have to watch for what they don't want to see and listen to what they don't want to hear."  –  John Madden