Viral Marketing, Bear Fights & Acquiescent Chickens
It's hard to imagine today's internet without thinking about Facebook, Twitter, YouTube, or the many other vehicles that allow people to share up to the second news and information.  With that being said, I believe that it's an absolute mistake for businesses not to embrace and communicate with the vast sea of consumers waiting to learn about the next big thing.  Today, I'd like to discuss the "Viral Marketing" phenomenon, and illustrate what can happen if people become infected by your viral marketing campaign.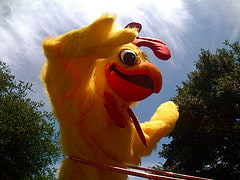 Viral marketing is a tactic that uses social networking to push brand awareness, increase sales, and increase website traffic.  This is achieved when the marketing promotion begins to self-replicate across the web, like a virus spreading through the human body. It occurs when people interact with the viral campaign (videos, games, images, text messages, etc.) and then spread the word, post links, or re-post content via the array of social networks and communication methods at their disposal.
When a viral marketing campaign begins to spread, the results can be staggering.
Do you remember John West Salmon's "Bear Fight", or my favorite, Burger King's 'Subservient Chicken"? Perhaps Rayban's video "Guy Catches Sunglasses with Face" rings a bell.  If you don't remember at least one of these viral campaigns, you're in the minority, as these three viral sensations combine for an estimated 754 million views!
These businesses went out on a limb and found that people apparently enjoy watching a full grown man fight with grizzly over a salmon (duh!), telling a chicken to do push-ups, and watching average dudes throw sunglasses at each others faces.  People apparently enjoyed it enough to tell all their friends, family, and Tom at MySpace that they "had to see it", and they did (Tom has not confirmed this statement).
Now, it should be said that not every clever attempt to create an internet sensation is going to be overwhelmingly successful, but deciding to engage in the social media arena can certainly help your odds. You may even accidentally become an overnight success.
One of my colleagues penned a blog post back in May (see "The Rise of the Three Wolf Moon T-Shirt") which discussed the overnight success of "The Three Wolf Moon" t-shirt. The shirt had been on sale for approximately 2-years before a college student posted a pithy review of the shirt on Amazon.  That review became a viral sensation, which eventually propelled the shirt to #1 on Amazon's apparel line and, at its feverish height, was selling more than 100 shirts per hour.
If you haven't already, now's the time to get involved in online marketing.  Developing a social media marketing strategy should be a priority for every business, and can help drive success. When combined with other digital marketing strategies and opportunities, there may be no limit to the growth potential of any business.  Need help getting started or advice on where to start? No worries, a digital marketing firm, like Oneupweb, will be happy to get you started.
What's your all-time favorite Viral Marketing Campaign?
Image: chicken wing day at work!