The Weather Takes on Walmart: How the Blizzard of '09 Drives Online Traffic
What do Walmart, the weather and Frosty, the Snowman all have in common? These are currently popular search terms driving traffic online. And with Hanukkah right around the corner and only two weeks left until Christmas, holiday shoppers are either driving to the mall or shopping online. But if you live anywhere in the Northeast or Midwest, you might not have been able to get your car out of the driveway this morning—at least not without a shovel and a prayer. It's usually not a good thing when your local meteorologist uses the words "hammered" or "blasted."
And following Google Trends the last couple of days, weather related searches have topped the charts. People are searching for their local news stations to find out more about school closings and local snow storm warnings. (Last time I checked, about 40% of the search trends were weather related). So in celebration of the winter weather, here are my top three snow related topics this week:
1) Weather-related searches outpaced Walmart searches. So when the weather outside is, well, frightful, why not go online? And e-commerce is on the rise—Cyber Monday online sales were up five percent from last year. Also, the top three online retailers, Amazon, Walmart and Target are all seeing increases in traffic to their websites. HitWise reported Walmart was number two in most trafficked retail sites during the big Black Friday weekend—topping the ranks in referral traffic from Black Friday websites and paid search results. Yes, Virginia, paid search does produce real results. But the blizzard of '09 has the volume of Walmart's Black Friday search traffic.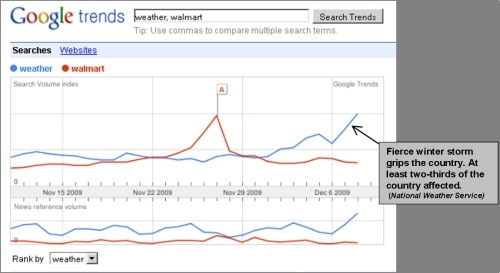 2) The Facebook snowball fight The weather closed down University of Wisconsin this week forcing thousands of college students to play outside. Socially-savvy students attempted to organize the largest snow-ball fight EVER—using Facebook.
3) Frosty heats things up And what's more inappropriate than Walmart and co-ed snowball fights? Frosty, the Snowman, of course. Technically, the new Frosty mash-up might not count as a "trending topic," but it has received a lot of attention on YouTube. Check it out and laugh away the winter chills.
Planning for the Next Digital Storm
Unless you're planning for the snowball fight of the century, you don't have to rely on the weather report to generate online buzz. But if you can't forecast the changes in online marketing, you may be left out in the cold this holiday season. Online marketing is changing—social media is growing at a break-neck pace and Google just rolled out a new search algorithm that might affect your ranking. It might be time to compare your online marketing wish list with our list of services. Go ahead and heat up your online marketing this winter with Oneupweb.