What DWI Charges Mean for Twitter
As you may have heard already, the Montgomery County, Texas District Attorney's Office has decided to tweet the names of those charged with Driving-While-Intoxicated (DWI).
There is much debate not only on Twitter but also in the mainstream media about whether or not this action is a good idea.
According to an article on Fox News Charlotte in North Carolina, Montgomery County's assistant district attorney, Warren Diepraam, conceptualized the idea and said, "There is definitely a deterrent effect in the potential public humiliation people may face when they get arrested for DWI."
Diepraam was apparently hired by the Montgomery County DA's office back in February of this year to help crack down on DWI and Boating-While-Intoxicated initiatives, according to a KTRK report.
Furthermore, according to a PC World article, Diepraam also said that the act of tweeting the names of those charged with drunk driving is "not a magic bullet that's going to end DWIs, but its something to make people think twice before they get behind the wheel of a car and drive while they're intoxicated."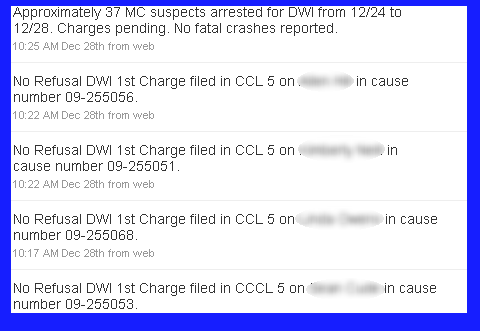 Some speculate that although DWI charges are public in many counties across the nation, posting the names on Twitter goes over the line.
"Nevermind that being arrested is a very different thing than being convicted and that a person who's been arrested is still innocent unless proven guilty," Houston DWI Attorney Paul B. Kennedy stated on his blog. "My question is should the DA dismiss a case against a motorist or should a motorist be acquitted by a jury of his peers, will Mr. Diepraam offer a public apology on Twitter as well?"
This certainly opens the flood gates for public embarrassment. Should government offices tweet the names of those who have lost their homes to foreclosure, those who have filed for divorce, those who are going through a public custody case? Or is DWI different?
What are your thoughts on this issue? Is the Montgomery County District Attorney's Office helping the citizens in their district or swerving over the line?