Who Knew That Finding Outrage On the Internet Would Be So Easy?
This Tuesday marks the kickoff for the fifth annual Traverse City Film Festival, an endeavor that has grown in size and scope every single year. People from all over the world come to the jewel of Northern Michigan to enjoy films that don't play at their local Cineplex.
My friends and I have gone to the festival every year, and one of the only "complaints" I've ever heard is that there are "too many" good movies, and it can become difficult to decide what to see. That's a problem I don't mind having every year. But what can you do to help figure out the best course of action?
Thankfully, the ubiquitous search engine Google can offer plenty of help. By its very nature, the lineup of films at the TCFF is very good, and the descriptions written on the website and in the program guide make each movie sound like a winner. Many of the films have either opened in large markets like New York or Los Angeles, or played at festivals like Sundance or Cannes. So when trying to make a tough decision, looking at the organic Search Engine Results Page (SERP) can offer some valuable insight from a wide variety of sources.
For example, when I was readying myself to wait in line for five hours to buy tickets, I was reading some of the synopses, and I came across a movie called "Outrage". The first line was something like, "the new film from the Oscar-nominated documentarian Kirby Dick…" and I stopped reading right there. Having seen Dick's previous documentary, the brilliant "This Film Is Not Yet Rated", I knew I had to put it on my list. Now, having bought the ticket, I realized that I would like to know a little bit more about the movie.
People don't have to do much searching for films like "Harry Potter and the Half-Blood Prince" or "Bruno", which opened on 4,325 screens and 2,756 screens, respectively, are backed by multimillion dollar studio ad campaigns, and are part of the pop culture that people talk about in general conversation. "Outrage" opened on five screens and never played on more than 18, so water cooler conversation about it in most sectors is probably close to nil.
Thankfully Google is there to help. As you can see below, just typing the word "Outrage" into the search bar returned four relevant results right at the top of the page: the official film website, the trailer from the Apple Movies website, the Internet Movie Data Base page, and a blog from the Los Angeles Times about the film. All of these sites can provide valuable, pertinent information for Dick's latest documentary.
I must admit that this isn't what I expected. The word "Outrage" is a fairly common word in the English language, particularly on the Internet, where someone is always Outraged about something. The fact that Google can interpret my intentions of this search, with seven of the 10 results returned on the first page for the film, is quite frankly pretty astonishing.
With the exception of the LA Times blog, most of the information found is "official" information. I want to know what people who have seen the movie are saying about it. Simply adding the word "reviews" brings up an entirely different SERP with none of the sites listed from our original search, as seen below. Reviews from Pop Matters, the New York Times, and Rolling Stone, among others, offer a wide variety of opinions that can help give you a better idea of what the movie is like, and if it's something you really want to see.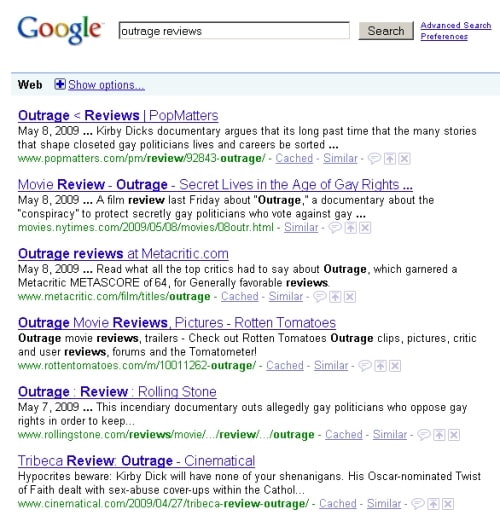 The SERP also offers results pages from the sites Meta Critic and Rotten Tomatoes, the preeminent film review aggregators on the Internet. These are great websites to get an overall feeling for how critics rated the movies; Meta Critic is based on a 1-100 scale, while Rotten Tomatoes uses the "fresh" and "rotten" denotations, accompanied by a robust red tomato graphic for fresh, and a squished green tomato for rotten, and displays the overall "freshness" as a percentage. A score over 60% is "Certified Fresh."
Another option for finding reviews is to click the "Show Options" tab right above the first result. This provides links to videos, forums, and reviews. It offers different time frames and the choice of sorting by date or relevance. This gets a little bit further away from the actual film, but the reviews tab is certainly helpful in this instance.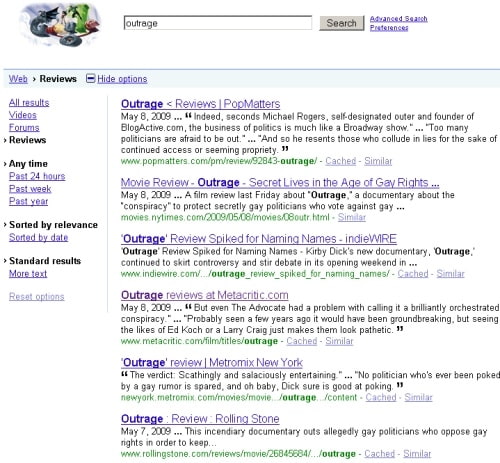 So all you Cinephiles, if you've got a few holes in your Traverse City Film Festival schedule and aren't sure which movies to fill them with, check out the natural search results on Google. You'll be sure to find enough information to satiate your cinematic needs.
Up Next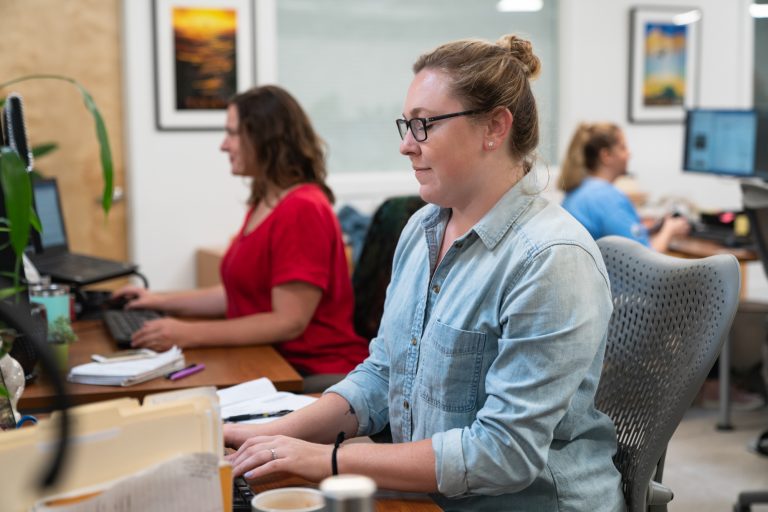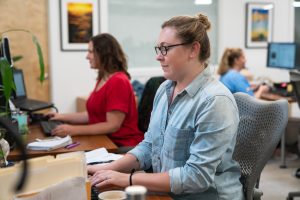 Oneupweb seeks a bright, highly motivated, strategic and experienced Sr. SEO Project Manager to join our growing SEO team. This is a highly visible role that requires you to be resourceful, creative and persistent for the betterment of the clients we serve. The ideal candidate is an expert in Google Analytics and Semrush, as well...