Why, George, Why? Because It's There.
Are you addicted to the Internet? This seemingly innocuous question could carry some serious implications if you believe in Internet Addiction Disorder (IAD). Debate is currently underway on whether or not to include IAD as a diagnosis in the next Diagnostic and Statistical Manual of Mental Disorders (DSM-V), scheduled for release in 2012.
Whether or not IAD makes the cut for the DSM-V, some people are already taking it very seriously.  Ben Parr at Mashable wrote an article about the first Internet Addiction Rehab Center to open in the United States. The program is called reSTART, and the Fall City, Washington clinic already has a patient, a 19-year-old addicted to the online role-playing game "World of Warcraft."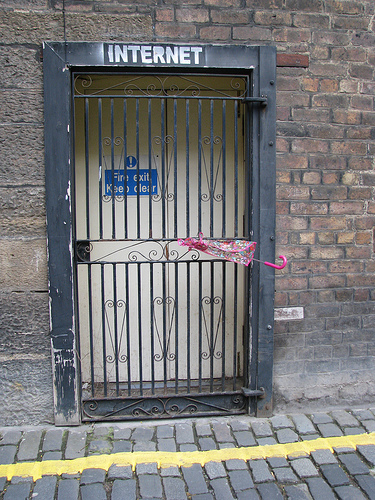 The United States is not the first country to institute such a program. According to CNN, China has "at least 400 private rehabilitation clinics or camps," and "10 million teenage Web addicts." That is a country in which web use can at times be highly restricted by the government. Compare that to the kind of access that Americans have to everything on the web, and it's actually astounding that we don't have more rehab centers like reSTART.
Now I'm no psychology expert (I never even took a 101 course in college), but I firmly believe human beings have a propensity for addiction. Drugs, alcohol, nicotine, sex, and gambling are just a few of the tangible addictions that many people face, and often it is the prevalence and ease of procuring these things that make them so easy to become addicted to. I refer to the great philosopher Costanza, who once replied to the question "Why, George, Why?" with "Because it's there!"
With that being said, think about how prevalent and easy to procure the Internet is. It is in our homes, our jobs, our coffee shops, our schools, our libraries. It invades almost every aspect of our daily lives, especially with the massive popularity of social networking sites like Facebook and Twitter. Just try watching the Daily Show, CNN, or Fox News (only for the very brave) and not hearing something about these massive social outlets. With every media outlet shouting "Follow Us On Twitter!" or "Friend Us On Facebook!" is it any wonder why some people end up doing a majority of their socializing online?
Being social online and being social in real life are clearly two different things, and a healthy balance should be maintained. I love outlets like Facebook because it makes it easier for me to stay connected to my friends in Kalamazoo, New York, Los Angeles or wherever from the comfort of my Traverse City home.
But there's more than just Facebook. To connect with friends we have Twitter, Myspace, Friend Feed (for now), and many more. To share links we have things like StumbleUpon and Faves. To make professional connections we have LinkedIn. To share music we have Pandora, last.fm, and a host of others. To share our bookmarks we have del.icio.us, Diigo, or Furl. This is just a small sampling of the available sites for these purposes. Don't forget the litany of online gaming sites, message boards and everything else out there. It's easy to see how someone could become addicted to the overarching Internet, which encompasses so many things.
What do you think? Is Internet Addiction Disorder a real, classifiable mental disorder?