Working Like A Dog
What would it be like taking your dog along with you to work? Would you be able to work longer hours, having eliminated the need to rush out the door at 5:00?
Many companies, even corporate giants such as Google, allow employees to bring dogs to the workplace. Most company presidents probably haven't thought of having a dog friendly policy, but all that is changing.
Pet Sitters International promotes Take Your Dog to Work Day. The day might seem a little less productive but according to a Blue Cross study, over 90% of businesses say they have noticed a positive change in the working environment since allowing four legged friends into the business world. Half of small businesses surveyed noticed a decrease in absenteeism.
An additional advantage of having your pooch in the office is that it can make those long hours more bearable. Stopping for just a few moments to pet your dog could seem like a distraction, but it can actually lower blood pressure. Instead of forcing down a quick lunch and heading back to work you could be getting some much needed exercise walking your dog.
K9's in the office are not only beneficial to the employee. According to the American Humane Association, benefits include increased productivity due to stress reduction, increased camaraderie among employees, and happier employees, which are all better for business.
The key to making dogs work well at the office is having guidelines that everyone agrees on in advance. Setting boundaries such as making lunch rooms off limits and keeping your pet away from coworkers who aren't dog lovers could make the overall situation run smoother. A supply of antihistamines on hand might not be a bad idea either!
The next time you're at your desk working like a dog, stop and ask yourself: Would having your best bud at your side make this more a walk in the park?
Up Next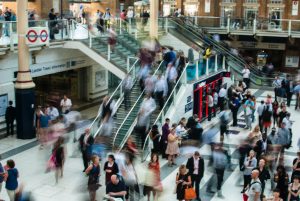 When you've worked in marketing for a couple of decades, you've surfed hundreds of waves of change in digital marketing. Through it all, these have been the top digital marketing FAQs we hear at Oneupweb. Cruise our answers to these marketing questions, and feel free to ask us something directly. Who should I be marketing...