World Nutella Day Recipes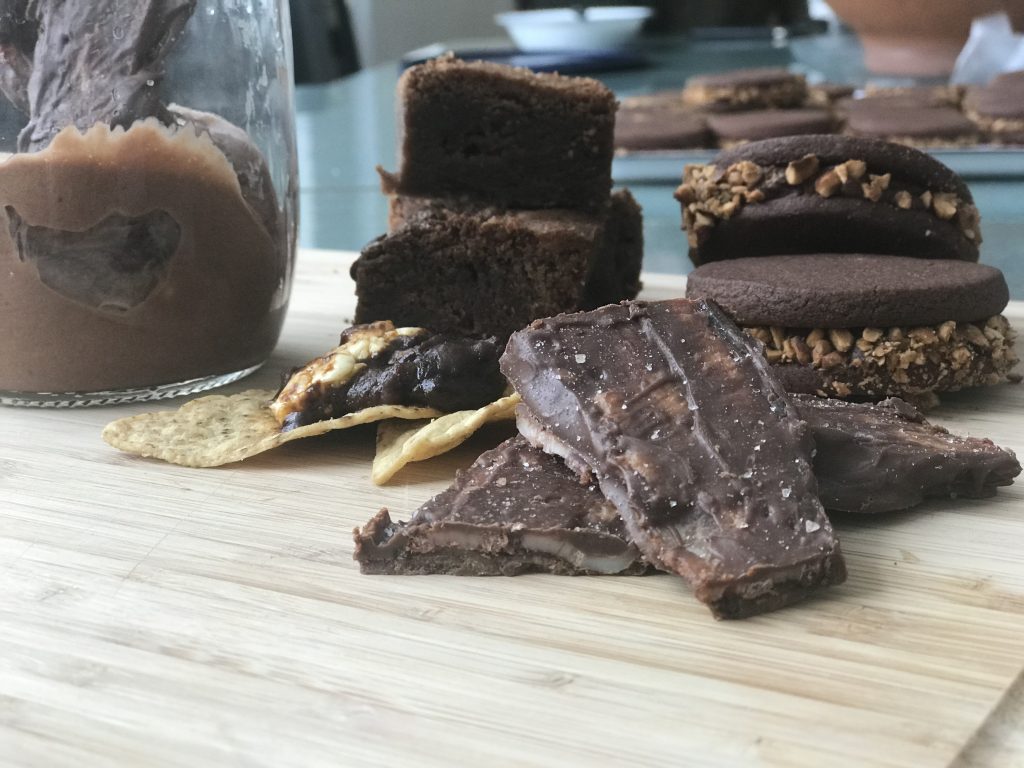 World Nutella Day has come and gone and it was delicious. Multiple Oneupweb staffers participated in the World Nutella Day Cooking Challenge, some even creating their own recipes for the occasion. Check out what treat topped them all and try out your favorite recipe at home.

Spicy Nutella Bacon
Ingredients
1 tablespoon light brown sugar – packed
1 teaspoon chili powder
1 teaspoon black pepper
6 pieces – thick sliced bacon
3 tablespoons Nutella
fleur de sel
Instructions
Preheat oven to 375 degrees. Into a small bowl mix: sugar, chili powder and black pepper. Set aside.
Spray a rimmed baking sheet with cooking spray. Arrange bacon sliced onto baking sheet making sure slices do not overlap. Bake for approximately 8 minutes. CAREFULLY flip bacon slices and sprinkle sugar/pepper mixture onto slices. Return to oven and bake for an additional 8 minutes.
Transfer bacon slices to a cooling rack and allow to cool completely.
When bacon has cooled, place Nutella into a small bowl and microwave for approximately 15-20 seconds to allow to soften. Transfer bacon slices to a piece of parchment paper that sits a top a plate. Using a silicon brush or icing spatula gently spread Nutella onto each bacon slice. Place plate into refrigerator and allow Nutella to coat/harden.
Once coating is firm to the touch sprinkle with fleur de sel.
BONUS: Sarah took the leftover bacon back home and turned them into scones for the office the next day. She used this recipe and just substituted the dried fruit for Nutella bacon. Great idea!
Nutella Swirl Brownies
Ingredients
1 cup unsalted butter melted & cooled at least 10 minutes
1 1/4 cups brown sugar packed
1 1/4 cups Nutella chocolate hazelnut spread
2 eggs + 1 egg yolk room temperature preferred
1 1/2 teaspoon vanilla extract
2 1/2 cups all-purpose flour
2 teaspoons cornstarch
1/2 teaspoon baking powder
1/2 teaspoon salt
1/4 cup additional Nutella chocolate hazelnut spread optional, for topping
Instructions
Line a 9×9 baking pan with parchment paper and preheat oven to 350F.
Combine melted, cooled butter and brown sugar, stir well.
Stir in Nutella until well-combined.
Add eggs & egg yolk, one at a time, stirring very well after each addition, then stir in vanilla extract.
In a separate, medium-sized bowl, whisk together flour, corn starch, baking powder, and salt.
Gradually stir dry mixture into Nutella mixture until completely combined.
Spread into prepared baking pan.
With your 1/4 cup Nutella, drop dollops of Nutella over the batter. Use a butterknife to swirl over the surface.
Bake on 350F (177C) for 35 minutes (a toothpick inserted in the center of the pan should come out mostly clean with few dry crumbs).

Allow to cool before cutting and enjoying.
Elvis Presley Ice Cream
Ingredients
1 cup Nutella spread
3 ripe bananas, cut into chunks
2 tbsp cocoa powder
2 cups half-and-half cream
Reese's Pieces
Instructions
Using a blender or food processor, process the Nutella and bananas until smooth and thick. Sift in the cocoa, and process again to blend. Lastly, add the cream and process until completely blended and smooth.
Transfer the mixture into a mixing bowl, cover tightly with plastic wrap and chill for 30 minutes.
Pour the chilled mixture to an ice cream maker, add desired amount of Reese's Pieces, and process according to manufacturer's directions. Once the ice cream is mostly frozen and has a consistency similar to soft-serve, transfer to a freezer-safe container and freeze for at least 4 hours to harden up.
Original Recipe (without Reese's Pieces)
Nutella Shortbread Sandwich Cookies
Nutella Ganache Filling
Ingredients
5 oz bittersweet chocolate, chopped or chips
½ cup heavy cream
1/3 cup Nutella
Pinch of kosher salt
Instructions
Put chocolate and Nutella in a bowl. Scald the cream and pour over chocolate.
Let the mixture sit, without stirring, about 10 minutes to let the heat of the cream melt the chocolate.
Stir until combined and let chill slightly. Stir vigorously for about a minute to thicken.
Chocolate Shortbread
Ingredients
2 sticks (1/2 pound) unsalted butter, softened
1 cup powdered sugar
1 teaspoon pure vanilla extract
1/2 cup Dutch-process cocoa
1 2/3 cups all-purpose flour
1 teaspoon kosher salt
Instructions
Preheat oven to 350 degrees. Beat butter until creamy (I used a paddle attachment). Add powdered sugar and beat until incorporated and fluffy. Add vanilla and add cocoa, mix slowly to combine. Add flour and salt and mix until everything is incorporated. The dough will be very soft.
Place dough on parchment or wax paper. Cover with another sheet and roll into ¼ inch thickness. Place dough in fridge for 30 minutes to chill, before cutting with 2 inch round cutter. Place on parchment-lined tray and bake for 10 minutes, or until firm. Cool 5 minutes on tray before transferring to wire rack to cool completely.
If the dough gets too soft, chill it again before working with it. Reroll scraps and chill before cutting out cookies.
To assemble, place a generous tablespoon of ganache of the side of the cookie that was against the tray (so the smooth sides will face outwards). Top with another cookie and gently squeeze together, so filling comes to edge. Roll the cookie in chopped roasted hazelnuts. Makes about 1 dozen sandwiches.
Super Easy Savory Nutella Mole Bean Dip
Black Bean Layer
Ingredients
1 can refried black beans
½ – 1 teaspoon chili powder ( or ¼ tsp dried oregano, ¼ tsp paprika, ½ tsp cumin, dash of salt)
Instructions
Mix together and spread onto bottom of bowl.
Add cayenne pepper to taste
Nutella Mole Topping
Ingredients
2 tablespoons Nutella
3-4 tablespoons mole paste (Buy it in a jar. I like Dona Maria.)
¼ – ½ cup water
Instructions
Cook the three ingredients until thick and spread on top of bean layer.
Top with Queso Fresco or a mild shredded cheese.
Microwave until warm. Serve with tortilla chips.