Introducing Zac "Just One More Take" Wendland, Oneupweb's Newest Videographer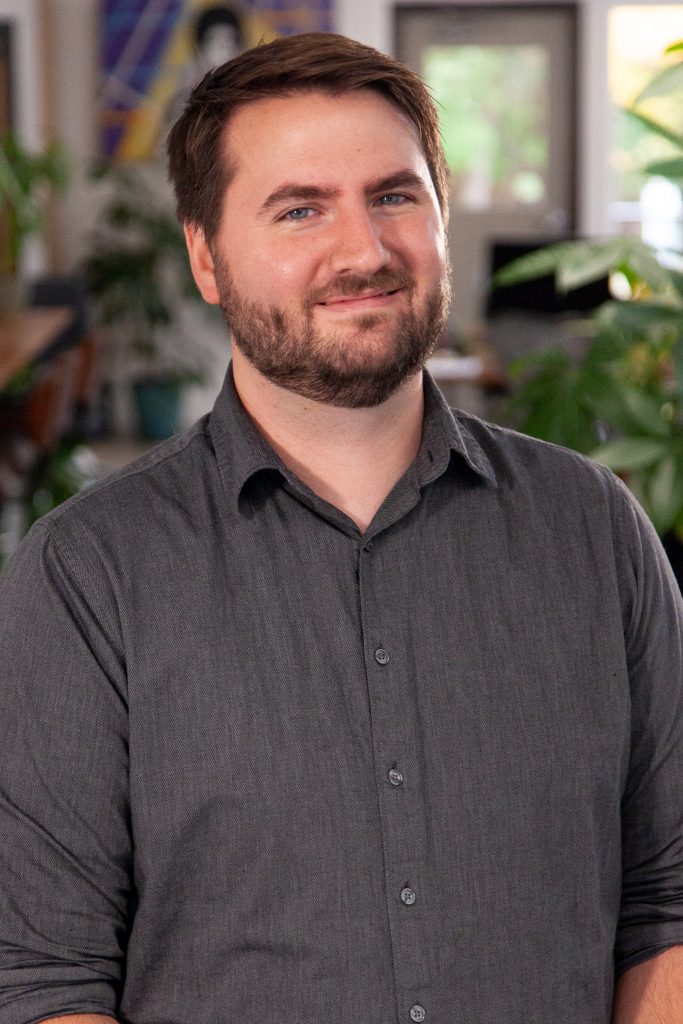 Name:
Zac Wendland
Position:
Videographer
What's your average day like at Oneupweb?
As a remote employee, my day looks a little different than most. You can't beat my commute (about 20 steps, including six stair steps). Half of the day my home office is an editing suite; the other half it's a studio where I film.
What's your favorite blog?
Nofilmschool.com is my go-to. It has a nice mix of tutorials, tech reviews, inspirational stuff and more. Perfect for any filmmaker.
What makes Traverse City Carol Stream, Illinois appealing? What are your favorite things to do/favorite places to eat, etc.?
Our charming little Chicago suburb has a great park district and lots to do for the kiddos (and adults too!) There's a disc golf course across the street from my backyard and the great city of Chicago is just 40 minutes away! Hard to beat. Oh, and Steamboat BBQ is the best BBQ I've ever had – and I lived in the South for three years!
What do you do when you're not at work?
Enjoying time with my fam. Playing video games. Watching movies and TV. Writing.
If you were stuck on a desert island, what office tool would you bring and how would you make your deadline?
Give me some kind of spinning device and perhaps I could fashion a zoetrope and make our client a nice looping social short.
It's 5:30 PM – what's your cocktail of choice?
Time to dig up Grandma's Brandy Slush recipe!
What's the last song you intentionally listened to?
"Dragons" by Drew Holcomb & the Neighbors (feat. The Lone Below)
Favorite Spotify or Pandora station?
Honestly, my musical inclinations hop around way too much to pick just one. I'll often find an album that I listen to on repeat for a while. That said, Spotify does a pretty good job making custom playlist for me. Oh, and when I'm in the car with kids, it's Disney all day.
What do you carry in your wallet?
Costco card – amazing deals, cheap gas and dat rotisserie chicken.
Favorite books/movies/albums/TV shows, etc.?
I hate picking favorites, so here is a sampling:
Books: "Life of Pi," "Chronicles of Narnia," "Lord of the Rings," "Hitchhiker's Guide to the Galaxy"
Movies: "Lord of the Rings" trilogy, "Star Wars" (all of them), "The Dark Knight," "Eternal Sunshine of the Spotless Mind"
Albums: "OK Computer" – Radiohead, "Love & War & the Sea in Between" – Josh Garrels, "Hurry Up, We're Dreaming" – M83
TV Shows: "Lost," "This Is Us," "Parks and Recreation," "Breaking Bad"
Tell us something weird/unique/quirky about yourself.
Too many to list. I grew up in Traverse City, and folks there might remember me as Diesel in The Old Town Playhouse's 2001 run of "West Side Story."
Describe yourself in three words.
Tall, funny, genuine.
What's one (or two) of life's simple pleasures?
A window, a thunderstorm, and a warm beverage in your hand. The sound of wind through leaves.
The Internet is listening: Give us your words to live by.
The universe is ever-growing, ever-expanding, and you are invited to do the same.