What is YouTube SEO?
YouTube has its own search engine, which means it also has its own SEO ranking algorithm. The YouTube SEO process uses keywords, hashtags, video content and other on-platform assets to improve your channel's position in search results.
Optimization can help in other ways, too. YouTube content will also rank in Google search results – but only if it's optimized correctly for YouTube! If you want to succeed with YouTube marketing, in-platform SEO should be prioritized first.
How Can I Improve YouTube SEO?
Improving your YouTube channel's performance through SEO maximizes the investment you've already made in creating video content. Use our brief YouTube SEO checklist to learn how to optimize YouTube videos for search.
How to Optimize YouTube Videos for SEO
Every YouTube video includes several elements that impact SEO performance. Are you ready to make YouTube part of your social media marketing plan? We have a few tips on how to use all components of the video to improve your video's SEO value.

Title: Structure your video titles with the primary keyword or phrase first, then the series name (if applicable), then your brand's name. This makes it easy for YouTube to understand what your video is about and which users would be interested.
Tags: Combine short- and long-tail keywords to mimic how users search for content on YouTube.
Descriptions: Treat descriptions as mini blogs that reiterate the content of your videos. The first 157 characters are shown above the fold. Include links to your website in your video descriptions to help drive traffic to your site.
Cards: YouTube prioritizes videos that keep viewers on YouTube. Use cards to link viewers to related videos on your channel or other channels. Additionally, you can poll your viewers with a poll card.
End screens: End screens are another way to link viewers to other YouTube content. Consider adding a "Subscribe" end-screen element to encourage subscriptions to your channel or any external channels you choose.
Custom thumbnails: Thumbnails are very important for YouTube video engagement. Your thumbnail should be 1280×720 pixels and should show bright colors, minimal words and the most engaging part of your video.
Closed captions: Add subtitles to keep your videos accessible to all users. YouTube offers a free subtitle feature, but make sure you check the auto-generated subtitles for accuracy before clicking Save. Multi-lingual companies can also invest in translators to write captions in additional languages.
Video activity: Reply to comments on your videos and share your videos on social media to show YouTube that your videos are engaging.
Playlists: YouTube treats playlists the same way it treats videos. Make sure each playlist is optimized for a primary keyword within a description. Additionally, upload playlists consistently, just like videos.
Visibility: Only public videos influence your channel rankings. Unlisted videos, however, may still show up in search results if they've been shared.
How to Optimize Your YouTube Channel

Channel tags: Your channel description should also be optimized for 3 to 5 keywords pertaining to your business. Don't just include your business name as a hashtag. Focus your tags on the services you offer – the more specific, the better.
Channel art: Like video thumbnails, your header image should be colorful, include expressive faces (engaging content) and use large text if words are absolutely necessary.
Icon: A brand logo or individual headshot are great options, depending on the channel.
About section: Tell your users about yourself and the goals you have for your channel. Try to include some of your channel keywords.
Trailer video: Assume the viewer has never heard of you. Hook your viewers in the first few seconds. SEO pro tip: Try to make your trailer rank for at least one of the channel tags you previously created.
Featured channels: You can use this space to accomplish a lot, including the following.

If you're a franchise operator, advertise other locations' channels.

If you're a small business, advertise channels related to your business vertical (but make sure they're not direct competitors!).

Playlists: Playlists function as separate sections of your YouTube channel. They provide a better user experience by separating and organizing your videos into digestible sections.
Community: Supplement your regular posting schedule with posts in your Community tab. Promote your most recent videos, share behind-the-scenes content and treat this tab like a Facebook newsfeed.
Dig deeper: Check out our downloadable YouTube channel optimization checklist for more in-depth info.
Still have questions about making good content for YouTube? We've answered more YouTube FAQs, so you don't have to keep wondering.
Other YouTube Video Marketing Must-Knows
Making YouTube SEO work for your business isn't all about writing descriptions and tags. You need research during concepting and promotion after the video is uploaded. We have tips for making pre- and post-production SEO-friendly.
How to Do Keyword Research for YouTube
We keep mentioning all these keywords, but how do you actually find them? When brainstorming an idea, it's a great time to turn to the search engine right on YouTube. You can type in partial queries related to your topic to find what people are already searching for. Once you've got some basic ideas down, you can turn to an SEO tool that allows you to narrow your focus on YouTube. There is a range of YouTube SEO tools, but we really like Google Trends and VidIQ.
For more inspiration, audit your current YouTube videos to find which kinds of tags you already perform well for. Research your competitors to see if there are any keywords you'd like to rank for or any gaps that you can fill.
How to Find YouTube Keyword Competition Scores and SEO Value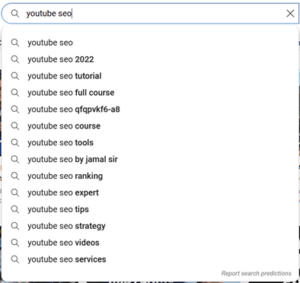 While searching on YouTube for keywords won't give you the same amount of data as tools like SEMrush, Ahrefs or Google Trends, you can turn to those sites for more information on the keywords you do find. If you search "YouTube SEO" on YouTube, you'll get something like this:
You can then choose keywords that fit your video. Enter them into keyword tools to get more information like search volume, click-through rate and keyword difficulty.
How to Market a YouTube Channel on Other Social Media
Once your video is posted, market it on other social media platforms or share it as part of an email campaign to spread it to more viewers. When sharing your YouTube video on social, there are plenty of ways to tailor your posts to each platform. Try posting a teaser or a behind-the-scenes shot on Instagram and directing your followers to your YouTube channel. You can link the video directly in a promotional story. On Twitter and Facebook, link videos with a short blurb hooking your followers or try enticing them with a similar preview into the most intriguing part of your video. You can even connect your LinkedIn to your YouTube account to promote your videos directly.
You can also cross-promote your own videos on YouTube, as we mentioned earlier. Link to similar videos on your end screen to keep viewers engaged and on your channel.
Related: How to Use Video in Email Marketing
Turn to the Experts on SEO for YouTube Videos and Channels
If this looks like more than your team wants to handle alone, consider Oneupweb's extensive YouTube services. Our team knows YouTube, and we'll use our expertise to optimize your videos and channel. We're the partners to pick to get your video in front of viewers searching through YouTube.
Reach out online or call (231) 922-9977 when you're ready to discuss professional assistance with YouTube SEO.