4 Songs That Prove Spotify is Judging Me
"Spotify holds a very special place in my heart. I don't think I could function in the day to day without it, and nothing has ever held up against it. " -Nicole Emenhiser
Sometimes loving Spotify is like having a crush on your bully. You think they're sooo cool but you're pretty sure they just tolerate you. Then they dump milk on your head and you regret all your life choices and everyone is jerks and I'm totally tripping that kid on the playground next time I see—
Sorry, just had a flashback.
Anyway! A month or two ago, Spotify released its Discover Weekly playlist; Spotify automatically builds a playlist weekly based on music I've liked, loved or repeat-played to the point of pain and death. And it's the best thing since organic gluten-free handmade local artisnal sliced bread. Every month is a happy surprise mix-up. (Muse? Deadmau5? Modest Mouse? Aw, Spotify, I knew you liked me back!) But sometimes there are a few mysteries in this mixed bag of nuts (Jimmy Fallon? Crudbump? …Lil Dicky? Wha—?) that make me wonder if Spotify's not just subtly judging me. Like that one friend. You know the one: "Oh my gosh I wish I could just wear anything like you do!!" Oh yeah you bottle blonde son of a—
Sorry. Another flashback.
Anyway! Here are four songs that make me think Spotify is judging me. Take a listen and you tell me, is this judgement or is there something I'm not seeing?
Up Next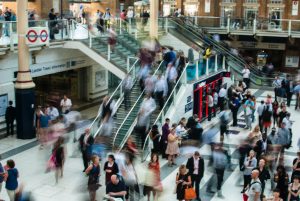 When you've worked in marketing for a couple of decades, you've surfed hundreds of waves of change in digital marketing. Through it all, these have been the top digital marketing FAQs we hear at Oneupweb. Cruise our answers to these marketing questions, and feel free to ask us something directly. Who should I be marketing...