Do you NEED custom reports or do you WANT them?
It's no secret that one of the great advantages to digital marketing is the ability to track and analyze dollar for dollar, just how well campaigns are working.
So much so, that over the last couple of years I'm seeing a real rise in the number of marketing teams who are really, truly embracing their tracking and analytics like never before – especially in mid-size companies. In my many years in this space, I've watched clients and partners go from being intimidated by all the data, to a bit dismissive, to appreciative, to now enthralled. It's been a great evolution to be a part of.
One of the interesting off-shoots of this evolution though is the increasing number of customizations we see. As technology platforms continue to multiply at an almost exponential rate, and the ways in which they can "play" together become more and more integrated, there is a growing push to start to customize.
Typically this is coming from a great place. Teams want to see meaningful data shared across several reporting platforms. Getting consistency can lead to reports that are easier to understand, align more closely, and – in theory at least – make strategic planning easier.
What ends up happening then, to achieve this, is the tech teams start bending, and pushing, and crafting and voila! magic happens. And those first few times the report is generated everyone is delighted.
I'll be the one to say it here – be careful.
The custom solutions and reports can feel like the answer at first. It won't take long though and everyone will be cursing them – really.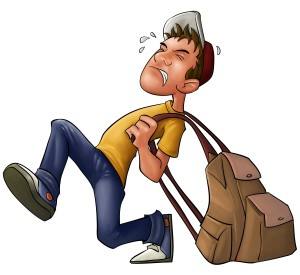 A colleague once gave me an apt metaphor for customization. Think of it as though you are wearing a backpack. In the backpack, you have pebbles that represent these custom solutions. One at a time a pebble seems like no big deal. You get enough of them loaded up though, and pretty soon you're dragging around a bag of rocks on your back. Not fun.
Here's the thing; going custom is often too short sighted. The more you can get the data you need from standard models, the better off you'll be. What happens when your custom technology "architect" moves on? Or what about the data analyst who modeled the custom reports but is then promoted to a different department? Almost as quickly as reports can be built, they can become obsolete. If you are analyzing "standard" data models, the learning curve is much quicker for new team members. The maintenance overhead is dramatically reduced. Reports stay relevant and meaningful. Everyone is generally happier.
If someone on the team can be the one to ask "why?" and challenge the idea of custom, more often than not you'll see that there's a standard solution that can uncover the exact same data. Always, always be ready to answer the what and why. What do you need from this report and why do you need it custom. Once those questions are resolved, you might just find you've already got what you need.
Look, there is a time and a place for customized tracking and analytics, certainly. In fact, some of the projects I've taken the most satisfaction from have been helping to create custom models. When it's appropriate, it's awesome. I can also tell you though, in almost 15 years at this, I've seen more custom reports start to collect "dust" after the third or fourth run then I'll ever be able to remember.