Oneupweb's Guide to Pinterest: Rich Pins (Part 3)
In our last post we covered Promoted Pins, now it's time to talk Rich Pins.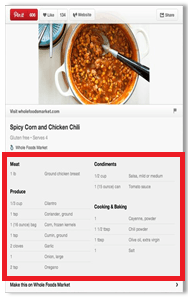 What are Rich Pins?
Rich Pins are a special type of Pin that makes using the platform more straightforward and seamless.
Not to be confused with Promoted Pins, Rich Pins are actually free for businesses.
These Pins include extra information beyond just the image (like real-time pricing on a product, availability or where to buy it), click-through link and the Pinner's description.
It is recommended that advertisers build out Rich Pins prior to launching Promoted pins (the more info/content, the better).
Currently, there are six types of Rich Pins.
Rich Pins types:

Place Pins:
Place pins allow users to create a map with the content they share.  To enable place Pins, you simply check off the "add a map" option when you create or edit a Pin Board.
Selecting the map option overlays your Pins onto an actual interactive map (as opposed to the typical solid-color background).  You can then add places to your existing Pins and Pin new places as well.
Place Pins include important details like addresses and phone numbers – perfect for mapping out restaurants and other attractions when you're planning a trip.
Article Pins:
Just because Pinterest is highly visual in nature, doesn't mean it's not a good place to share written content.
As long as an article features an image, it can be Pinned to Pinterest.
But article Pins make it so that users can automatically see the article's headline, author and a story description – making them much more searchable and distinguishing them from other content on the platform.
Product Pins:
Product pins make shopping on Pinterest a lot easier. Unlike a regular Pin, Rich Pins show where the product you're pinning can be purchased, the current price and a direct link to the product page.
Additionally, Product Pin prices are updated in real time, and if a user Pins a Product Pin to their board, they will be notified when the product's price is lowered.
Since many Pinterest users create boards that serve as wish lists for things they want, Product Pins are a great way to convert Pins into purchases.
Recipe Pins:
Pinterest is already a huge hub for foodies, and you can find just about any recipe imaginable on the site. Recipe Pins take sharing food on Pinterest to a whole new level.
Unlike a regular Pin, which would show an image and a description that is manually entered in by the Pinner, these recipe-specific Rich Pins show users important information like the necessary ingredients and their amounts, cooking times and serving info.
Recipe Pins also display details about whether a recipe is vegetarian, vegan, gluten-free, paleo, etc., making searching for – and determining which recipes you can make – a lot simpler.
Movie Pins:
Great for film buffs, these Rich Pins show more details about the movies you Pin.
Movie Pins include information like the year a film was released, its rating, the director and the main stars of the film.
When Pinning from different movie websites like Netflix, Flixter and Rotten Tomatoes, Pinners will also see how those websites' users ranked films as well.
App Pins:
Pinterest's newest addition to the Rich-Pins family allows you to share and download apps directly from the platform. Currently, app pins only work in the United States, and with iOS apps.
To use them, simply choose a device, and add a link to the App Store — Pinterest will add a download button to your pin, so users don't even have to leave your Pin Board.
Promoted Pins + Rich Pins:
Both types of Pins can drive a return on investment for brands.
While advertisers have to pay to play in order to amplify their pins on a large scale, Rich Pins have the benefit of eliciting engagement and driving an action without the added cost.
Rich and Promoted Pins are not mutually exclusive, according to advertisers.  A Rich Pin means the Pin pulls through item data such as name, price and availability from the advertiser's website.
A Promoted Pin means the advertiser is paying for the Pin to get it viewed by more people.
It's recommended that a Pin is Rich before promoting, since Rich Pins pull through an additional logo and help maintain the branding as it is Pinned further downstream.