Podcast Advertising: Everything Marketers Need to Know
Podcast marketing is one of the fastest-growing segments of the digital advertising industry. Advertising on podcasts allows brands to identify and reach their ideal audience, accurately measure performance and support broader marketing efforts with a multichannel approach.
We've put together all the information you need to evaluate the benefits of podcast advertising, different types of podcast ads and which platforms have the most competitive advertising rates.
By the Numbers: Podcast Advertising Statistics
In 2021, ad revenue from podcasts exploded, with total spending eclipsing $1 billion. Economic headwinds pumped the proverbial brakes on spending in 2022, slowing it to a 26% growth rate. That's still a considerably faster growth rate than other digital advertising channels like video (19%) and social media (4%). Revenue is expected to hit $4.2 billion by 2024, when election news is expected to push the news and political listening back to 2020-2021 levels.
Who's Listening to Podcasts?
Specific shows provide advertisers with plenty of unique audiences, but some universal listening trends may help define your podcast marketing strategy.
57% of Americans have listened to at least one podcast, while most listen to shows on a weekly or semi-regular basis.
Apple Podcasts is the most popular podcasting app, capturing 43% of total market share. Spotify holds the second spot with 20% of the market.
48% of monthly podcast users are between 12 and 34 years old.
The average household income of monthly podcast listeners is $75,000 or more. They also tend to have stable incomes, with 63% saying they have a full-time job or career.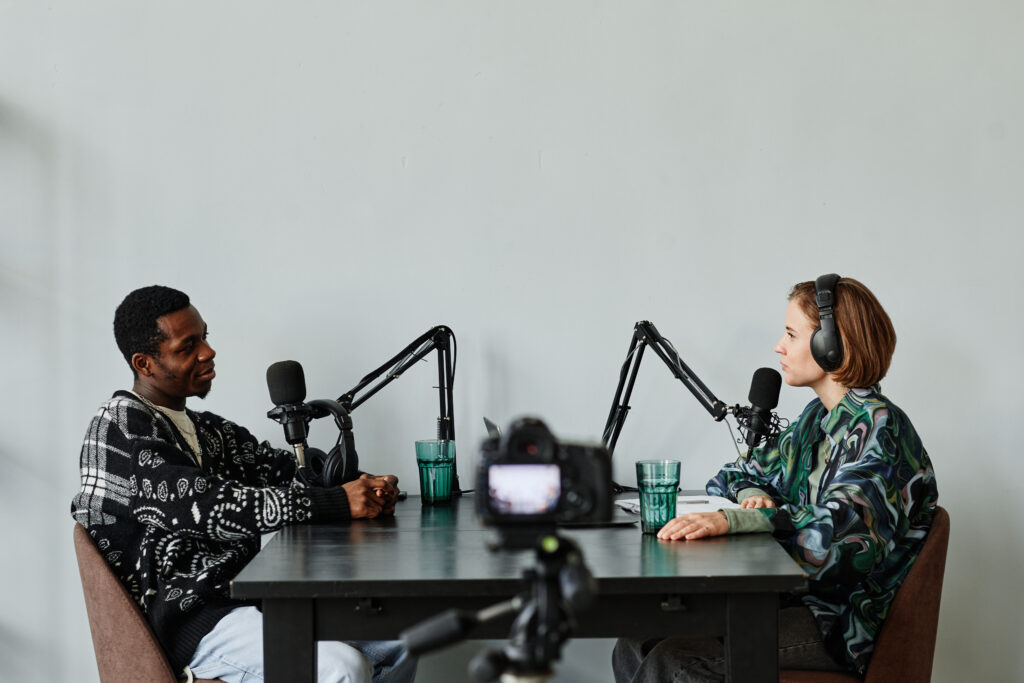 How to Advertise on Podcasts and Get Results
The podcast advertising industry utilizes similar tools and placement options as you'd find on Google Ads or the Meta Business Suite. Podcast advertising companies and ad networks offer a range of resources to help you get started. Still, we recommend doing initial research to identify your audience, your platform and your goals.
Know your audience – Start by leveraging existing market research (or tagging us in for fresh data) and checking current demographic information with Google Analytics. Your audience's age, education level, average income and interests will quickly narrow down the types of podcasts, ad concepts and placement details once you're ready to go live.
Know the numbers – Podcast ad rates vary based on the show, the platform and how the ad is served to listeners. Rates are often sold based on CPM: cost per mille, or 1,000 impressions. Expect to pay between $10 and $50 per 1,000 impressions; more popular shows can be much pricier!
Know your podcasts – There are over 2 million podcasts online, so you're sure to find just the right fit. Whether you're targeting a niche interest (like bikepacking) or an established genre like true crime, there's a show and a price point to match your budget and audience.
Find the Right Podcast Advertising Platform
There are dozens of podcast apps to choose from, though Apple Podcast and Spotify are the largest by a considerable margin. On both Apple and Spotify, podcast ads are served in several ways (we'll get to that in a bit) that mitigate the need to choose between these networks. It's still important to know how these industry players stack up.
Apple vs. Spotify
Spotify has more total podcast listeners, while Apple listeners are more engaged – they download nine times as many shows as Spotify listeners.
Spotify now offers more than 2 million podcasts after the company invested more than $1 billion acquiring smaller outlets and signing exclusivity contracts with popular shows.
Apple, it should be noted, invented the podcast – and it's still the industry leader. Apple brings in over $5 billion annually from its podcast business and still holds a podcast catalog of more than 2.5 million. It's also expected to make $1.9 billion in profit from its podcast ads by 2023.
Check Out the Competition
You should always make marketing decisions based on your brand's best interest – but it doesn't hurt to see what your competitors are up to. Compare your initial research findings with the types of shows your rivals are sponsoring or advertising with. Are they placing spots on similar shows or genres as you expected? Spend a little time exploring those shows to check your research; you might even contact those shows to learn about pricing or that podcast's advertising rates.
Choose the Right Podcast Ad Type
As noted earlier, there are a lot of ways to deliver the right message to the right podcast listener. Test different types of ads across various shows to see which podcasts offer the best return on investment.
Native Ads
Native podcast ads are created by the brand (that's you!) for the show. Most native ads are 30 seconds or less and sound like a radio ad. They're often placed at the start of the show (pre-roll) or the middle of the show (mid-roll).
Sponsored Content
Sponsored content comes in a few different flavors. In most cases, your product or service is usually mentioned within a broader context or story. Sometimes, it's an obvious plug: In 2018, McDonald's sponsored a series called "The Sauce" that told the story of customers rioting after a popular sauce was pulled from its menu.
Less obvious plugs can be as simple as a host regularly mentioning their personal use of the product. This is a favorite for restaurants or coffee shops, with hosts commenting on new drinks or foods.
Paid Interview
These interviews are unobtrusive and feel like a normal part of the show, but many are paid spots. Paid interviews allow brands to establish brand authority and expertise by providing analysis or industry insight in a conversational, personal way.
Direct Response Ads
Direct response could just as easily be called direct action because it usually involves the host asking listeners to do something. Whether it's clicking on a link or using a coupon code, direct response ads feel like a personal ask or recommendation from the host.
Need help creating content? Work with a podcast marketing agency to build a library of ads for any platform or delivery method.
Be Everywhere (And Always in the Right Place)
Marketers can build a podcast presence quickly and effectively by going the programmatic route. Programmatic podcast advertising, or dynamic insertion, provides fully automated purchasing and insertion of podcast ads across a network of shows. Podcast publishers use reams of data to serve your ad to the right audience from a list of recommended shows that you approve. The placement and length of each ad are based on your budget, which is usually set either by campaign or by timeframe, such as over the course of a few months.
Note that your spot won't be a part of the podcast. Dynamic ad insertion is limited to native ads, so they'll sound more like traditional radio ads and won't be read by the host.
Why Advertise on Podcasts? It Works!
Podcast advertising ROI (return on investment) is considered more effective than linear TV or radio, especially if brands prioritize measuring results accurately. We recommend using coupon codes, vanity URLs and landing pages, as well as tools provided by programmatic publishing tools.
Taking into account your short and long-term goals, budget and industry, establish a few KPIs to gauge ROI – our paid media team can help you do just that.
Make Podcast Marketing a Part of Your Brand's Strategy
Podcasts ads can lift brand awareness, establish customer loyalty and make your marketing efforts more impactful. For more than 25 years, Oneupweb has designed and implemented creative solutions to solve a host of marketing challenges across industries. Put an experienced, motivated and collaborative team to work on your next project. Let's get started; reach out or call 231-922-9977 today.