Point, Click and Shake Hands: Personal Value in Ecommerce
In a great article on the importance of humanizing brands in improving ecommerce loyalty, Chris Malone outlines his study's findings that "online shoppers at 'multi-channel' retailers such as Best Buy, Macy's, Sears and Walmart reported much higher customer loyalty than those who had only made in-store purchases."
The bottom line: personal value matters.
Many of our recent conversations with clients have centered on communicating personal value. In the race-to-the-bottom fueled by Google Shopping, eBay and Amazon (among others), a customer-centric approach is critical — particularly for brands looking to differentiate in a commoditized industry. "Human brands," as Malone calls them, can actually change the buying calculus, shifting the conversation from price to more intangible differentiators, like personal customer service:
"In our research, customers rated Zappos very highly for loyalty-inspiring distinctions, such as its ability to resolve problems fairly and acting in its customers' best interests. Those same Zappos customers ranked the company's 'value' and 'lowest prices' as only 8th and 14th in importance, respectively. Zappos has been able to use a balance of technology and direct contact between customers and employees to build deep and lasting customer loyalty, despite selling their products at full, department store retail prices. As a result, Zappos generates 75 percent of its sales every day from repeat customers."
Research indicates that the same holds true in the B2B space. According to a recent Google-CEB Market Leadership Council study of 3,000 B2B buyers, "personal value" plays a significant role in B2B purchase decisions: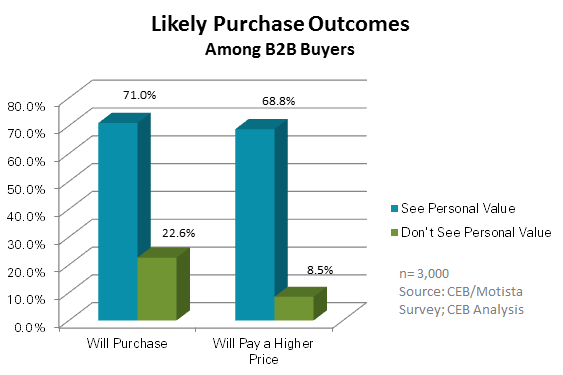 What does it mean for online marketers?
At the end of the day, we're all human – B2C and B2B customers alike. As web usability expert Jakob Nielsen puts it, "The same person who's a 'B' during working hours is a 'C' in the evening." Regardless of whether we're shopping for a new pair of shoes or enterprise-level software solutions, our preference for personalized, human interaction is a powerful motivator. Offline or online, brands should take notice.