5 Digital Marketing Strategies for Resorts
Resort marketing has been put to the test in the last few years.
Perhaps no industry was as heavily impacted as the hospitality sector during the COVID-19 pandemic, and with lingering inflation and economic uncertainty, there could be more challenges ahead.
Effective digital marketing for resorts addresses those concerns and tells a story; here are five ways to showcase your unforgettable resort experience.
What Is Resort Marketing?
Resort marketing is the ongoing effort to attract new and repeat guests to resort properties. Resort marketers and agencies rely on a mix of traditional, digital and other methods to showcase the amenities that set their location apart.
As you'd expect, it's big business.
There are some subtle differences between marketing a resort and other hospitality lodging options. The critical differentiator is guest intent. Travelers choose hotels and Airbnb when they want to explore a destination; they choose resorts when they want their accommodations to be the destination!
Staying at a Resort
Convenience (no car, food onsite or kitchenette, activities at the location)
Easier to meet up with friends
Kid-friendly activities
Often cost-effective
Other Lodgings
"Home base" for day trips
Dining can be hit or miss
Little time spent at the location
Wide price range
5 Marketing Strategies for Hotels and Resorts
Even experienced marketing teams benefit from getting fresh eyes on their work. When it's time to work with an expert marketing company with resort experience, we're here to help.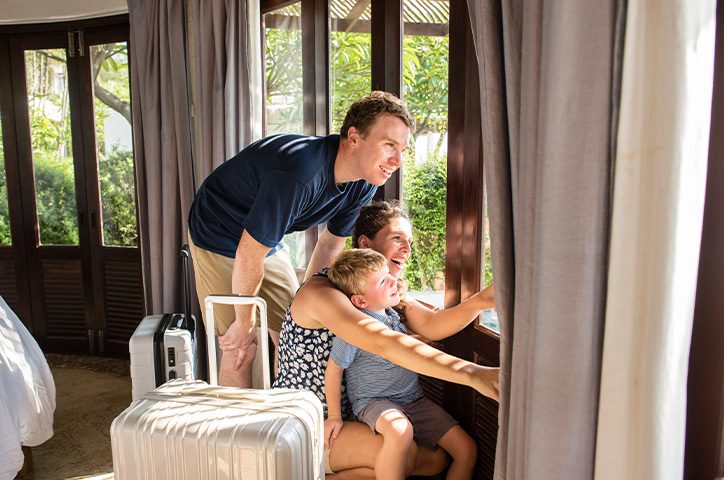 There are 5 things you can do right away to improve your marketing efficiency:
1. Think Mobile-first for an Audience on the Move
More than 65% of travelers booked their flights or lodgings on a smartphone in 2021, and that trend will only continue as tech-centric Millennials and, in the next few years, Gen-Z enter the workforce. Resort websites need to deliver information to guests during their stay. Your website is likely the first place they will look to check pool hours, find the restaurants onsite and research their next fun activity.
Optimize your website for a seamless mobile experience and faster page-loading speed and consider building an app to organize information, promotions and more for your guests.
2. Tell the Story
As much as travelers crave new experiences, they don't enjoy the unexpected. Use your marketing to show future guests what they'll do, see, touch and feel, from check-in to turndown to checkout. Align video, photography and copy to create a strong emotional connection that supports the guest experience and sets expectations.
3. Tap Into Influential Social Media
Social media is a prime platform for sharing visually stunning photography and engaging video content. Platforms like Instagram and TikTok have a large and influential array of creators that can help bring quality followers to your account. Consider working with creators; agencies like Oneupweb can handle every step of the process for you!
4. Remarketing for Resorts – It Works
Mid-to-low funnel users are shopping around – a lot. One study found that the abandonment rate for hotel and resort bookings is around 75%! It makes sense; users have plenty of options to compare. Users are at different points in their conversion journey, waiting on work schedules, tax refunds or confirming plans with friends.
Remarketing campaigns serve ads across a range of platforms targeting recent users of your site. You've seen them before; shop for "fuzzy cat slippers" once and you'll probably get served ads for similar products on social media and the web. These campaigns can be very effective in bringing qualified users back to your site to convert, but they do require careful management to preserve the budget.
5. Get Collaborative
Connect your guests with community partners to highlight the businesses and experiences that make your location great. Work with a local brewery, bike shop or yoga studio to add value to your guests' stay with activities that go beyond the property line. These types of collaborations reward both resort and local partners, but also build a strong connection with the community. By showing your support for small businesses, resorts can improve goodwill and even support recruiting efforts by enhancing the resort's image.
Now Is the Time: The Resort Industry Is Recovering Post-pandemic
While occupancy rates are still behind 2019 levels, the hospitality industry is getting stronger. A few specific travel segments are expected to accelerate in 2023.
Business travel – Convention and event space bookings increased 13% YoY in 2023, with 65% of business professionals expecting to increase their company's travel and events budget.
China reopens –China led the world in outbound travel and generated more than $255 billion per year in international travel revenue before the pandemic. With China lifting most local and international travel restrictions, expect a surge in pent-up demand from eager Chinese globetrotters.
Apps – Booking.com, Expedia and TripAdvisor serve as travel and lodging marketplaces. Stay focused on those channels to help users through the sales funnel and put them in a position to convert. These apps work; nearly 1 billion users relied on travel apps to research and book trips in 2021, with Booking.com capturing 34.57% market share.
The Big Picture Today
Nearly 750,000 hotel and resort properties compete for a share of the $341 billion spent globally each year on hospitality. This makes the industry one of the most competitive. Effective marketing defines and differentiates; it inspires and connects. Most important, it makes the front desk bell ring.
Get Strategic with Oneupweb
Traverse City is the Vacation Capital of the Midwest, and we just happen to call it home. Oneupweb has years of hospitality marketing experience and a full team of designers, developers and content marketers to tell your story and motivate your potential guests. Ready to get started? Get in touch or call (231)-922-9977 to book a time to chat!