Meet Amy Lewis: Part Paid Media, Part Account Manager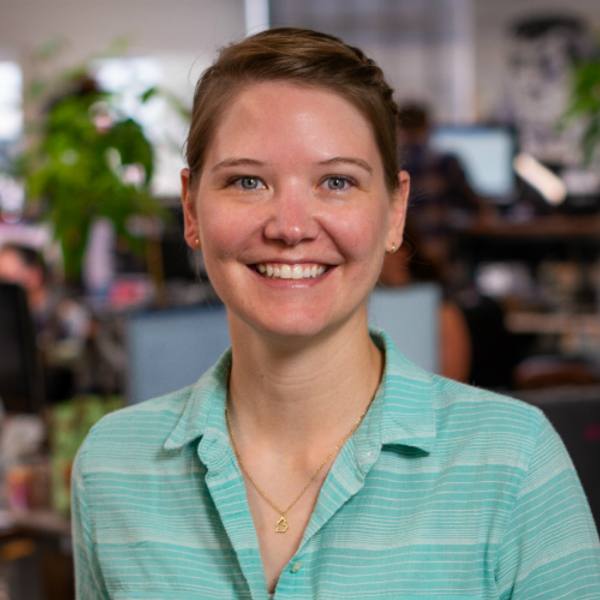 Name
Amy Lewis
Position
Senior Account Executive
What's your average day like at Oneupweb?
In a normal day, I'm attending meetings, coordinating documents and most likely bobbing my head to the music playing in the office.
Tell us about a favorite Oneupweb moment in general
I've loved expanding my knowledge with the help of this great team, but my favorite moments have probably been sitting around the lunch table getting to know my coworkers.
What makes Traverse City appealing?
For me, the summers. Spending time with my family on the sand or water recharges me. I'm also a fifth-generation Traverse City resident, so I have a lot of TC pride.
What do you really do at Oneupweb?
Represent our clients inside the building and support our team in any way I can.
What do you do when you're not at work?
I like to bike with my family and have a picnic or go hang out at the beach. I really enjoy creating things. Our latest toy at home is a 3D printer that has come in very handy and has also given me a reason to start playing around with 3D modeling. I also have a two-year-old that keeps me busy these days. When I'm not doing any of that, I enjoy cruising around in my 1988 VW Cabriolet (in the summer).
Years from now, what will stick out most about 2018?
Probably joining Oneupweb, but we have a few months left. You never know what will happen!
It's 5:30 pm – what's your cocktail of choice?
Virgin strawberry mojito.
What's the last song you intentionally listened to?
"Downtown" by Macklemore because we were headed downtown and my daughter kept shouting "Downtown!" so I asked Google to play it.
Favorite Spotify/Pandora station?
Electronic while I work, '90s Radio for fun times, Jazz Piano for hanging out, and Laid Back Brunch Radio for Sunday mornings while we eat pancakes.
What do you carry in your purse?
I have a toddler, so EVERYTHING. If you need something, just let me know.
What's your secret guilty pleasure?
Dark Chocolate M&Ms. I have them every day.
Favorite book/movie/album/TV show/etc…?
Book: "Couplehood" by Paul Reiser. I read it every year.
Movie: "Captain America: Winter Soldier" or "The Avengers"
Album: I listen to a lot of music but not a lot of albums. My most recent favorite album was probably "Guardians of the Galaxy: Awesome Mix Vol 1."
TV Show: All-time favorite is definitely "Friends." Currently also in the running would be "The Good Place" on network TV, or "Queer Eye" on Netflix. But I'm currently binge-watching "Parks & Rec" for the umpteenth time (but I always start on Season 2).
Tell us something weird/unique/quirky about yourself.
I don't like feeling other people's residual heat on my chair/mouse/etc.
Describe yourself in 3-5 words.
Positive, crafty, curious
What's one of life's simple pleasures?
Cloud gazing. Cloud gazing on a beach for bonus points!
The internet is listening: give us your words to live by.
Other people have said it better than I can, but don't be afraid of making mistakes. That's how you learn and grow as a person.