The Traverse City Balance of Live/Work/Play
Last week we learned that the Traverse Bay Economic Development Corporation (TBEDC), an arm of the Traverse City Area Chamber of Commerce, is sponsoring the production of a video highlighting tech-related business in Grand Traverse County.
Intended to promote the Traverse City area to potential new businesses and entrepreneurs, the video project features several businesses and Oneupweb is one of them. So last Friday, a few Oneupwebbers participated in a video interview. TBEDC asked us to put on our CEO, Human Resources and Marketing/Advertising hats for questions such as, "Why did you move here? What do you love about Traverse City? How does Traverse City attract and support the employees of Oneupweb?"
It was interesting because Fernando, Janese and I all moved here from different places, and we all have very different stories, but with one common theme – Traverse City offering us a one-of-a-kind experience, with opportunities to grow both personally and professionally.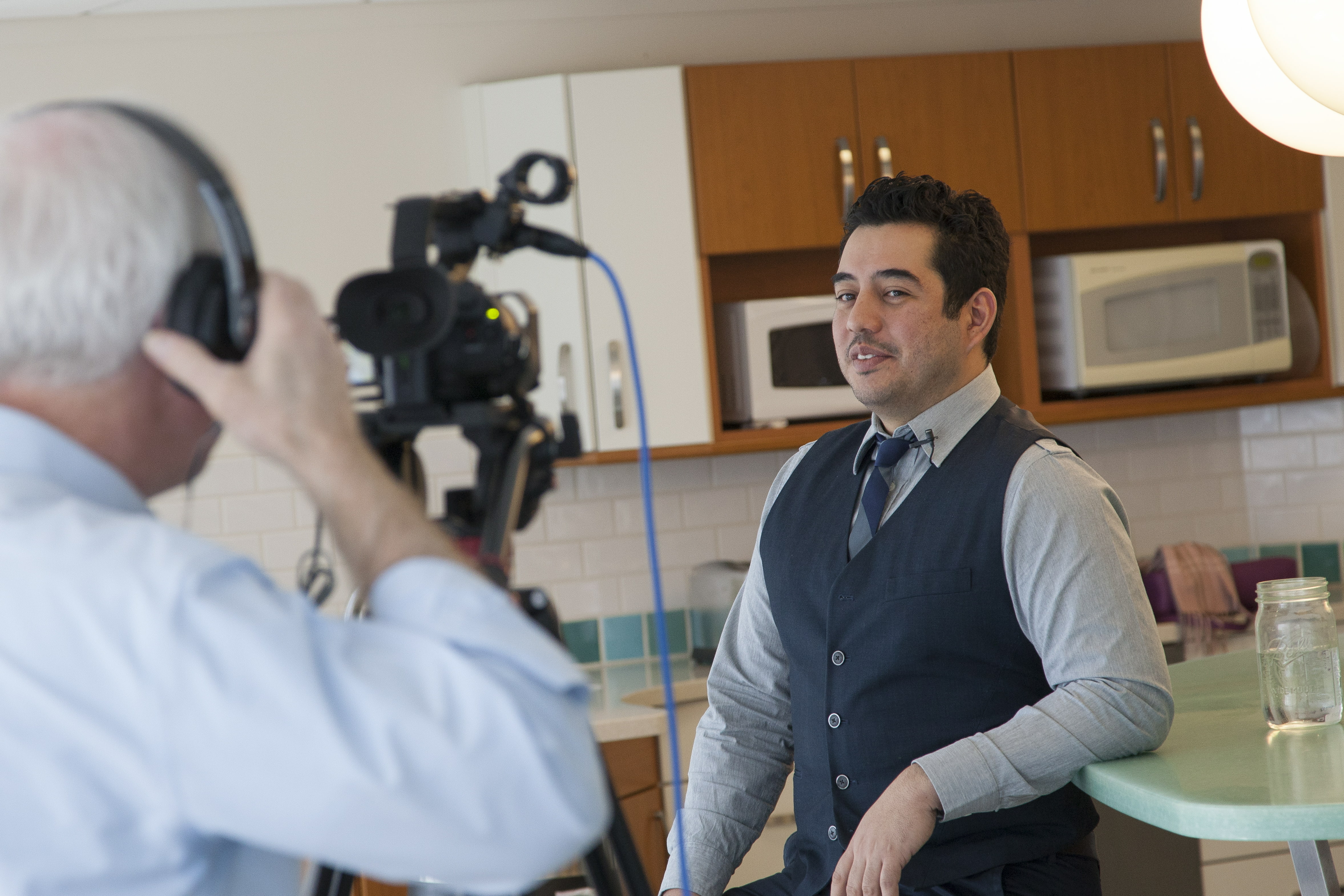 CEO
While living in his native Los Angeles and New York City, Fernando Meza, Oneupweb's CEO, worked in advertising. He was accustomed to the fast pace of the big city, where you work round-the-clock and are expected to entertain clients with the little time you have left. Growing up in a tight-knit family, he knew that creating one for himself would be a challenge given his frantic work pace in the city. After some soul searching, he landed at Oneupweb in Traverse City and realized his dream of work/life balance. He has since moved his way up the company and now holds the title of CEO. Fernando is also getting married this year to the love of his life, with the hopes of starting a family shortly thereafter.
Human Resources
Having moved here from California, Janese Horton, Oneupweb's director of finance, has called Traverse City home for the past 20 years. Like Fernando, she also loves the balance of work and play in Grand Traverse County. In her interview for the TBEDC video project, she talked about the importance of hiring hard-working individuals who are curious, experienced and passionate. Although Traverse City is such a wonderful place to live, getting qualified people to relocate here to northern Michigan can sometimes be challenging. But once they experience it, they never look back!
Marketing/Advertising
Personally, I grew up in lower Michigan but visited Traverse City often. After college, I moved to Colorado and spent the next nine years there. I lived in Aspen for the majority of my time, and fell in love with the small town with big city culture. When it was time to move, I knew that I had to find a place that had the same characteristics as Aspen that I loved so much; the abundance of outdoor recreation, sense of community, career opportunities, and high quality of life. Because of the time spent here throughout the years, I knew that Traverse City had all of that and then some. Working as the brand strategist at Oneupweb, I am able to have the career opportunity that I desire, in an industry that I am passionate about.
Working at Oneupweb has been a different experience for all of us, but one that has provided us with opportunity to grow professionally and to do exciting, challenging work. Being headquartered in Traverse City certainly hasn't put a ceiling on our ability to grow; we have a very diverse client base and are able to compete both on a local and on a national level.
Traverse City is a Win-Win
All in all, Traverse City offers a wide range of positives. We have a wonderful Chamber of Commerce that welcomes newcomers with open arms and keeps current members engaged through various networking and business-building opportunities. Traverse City is a progressive town; the businesses are thriving and the community vibrant. The business owners here respect that people don't live to work, but rather work to live.
Take the Plunge
I am looking forward to seeing what this video initiative does to showcase the business vitality of Grand Traverse County. And, if you are thinking of moving to Traverse City, you should. Oneupweb is even hiring for a few positions and, from my experience – it is an incredibly rewarding place to work.